When it comes to optimizing your website's organic ranking, quality dofollow inbound links are of paramount importance. It makes perfect sense: Each inbound link counts as a "vote" for your site in the eyes of the search engines. I've gone to great lengths building inbound links for PPC Ian. My three tiered approach focuses on PR that drives SEO, guest interviews, and social media profiles. Today, I'm going to talk about one of the top social media profile opportunities: YouTube. In short, it's mandatory to have a YouTube channel for each and every one of your websites, even if it's a five page minisite.
Get Your Free YouTube Link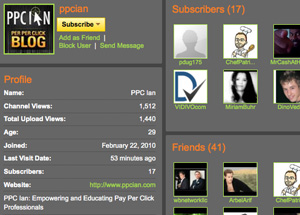 Check out the screen shot of my PPC Ian YouTube channel to the right. As you can see, the profile section has a link to my blog. When you view the source code of my YouTube channel you can actually see that it's a real dofollow link. In my opinion, this is a really valuable link because it's coming from one of the most popular websites on the Internet, one that's owned by Google. Of course, as you build out your YouTube channel and your videos get a lot of views, your link will carry even more weight. In an environment where it's sometimes difficult to get high quality inbound links, this is truly an opportunity you cannot pass by!
Build Out YouTube Channels For All Your Websites
I currently own over 80 active web properties. They range from large authority sites, like PPC Ian, to small five page minisites. If you're operating an authority website, you've probably already have a YouTube channel. (If you don't, drop everything and go start one now!) However, I'm here today to argue that you should create YouTube channels even for your smaller sites. Even if your site is only five pages, this is an amazing way to market your website while driving SEO value.
How To Scale Your Time With Multiple YouTube Channels
If you have a YouTube channel, you probably know just how much time it takes to shoot, produce, and upload videos! It's really time consuming. So, you might be a little intimidated to create YouTube channels for all of your long tail websites. It's actually easier than you may think thanks to a new website called Fiverr.
Fiverr is basically a marketplace where you can get anything done for $5. Many sellers on Fiverr are amazing at quality, entertaining video. (Some are also really low quality so you'll want to run a few tests to find the best people to work with.) I've personally leveraged Fiverr extensively for video introductions and testimonials for my SEO websites. If it's not one of my core properties, I go to Fiverr to get videos so I'm able to create a YouTube channel while saving my personal time for my larger websites.
With SEO, It's Always Important To Think About Quality
Now, you may be thinking: Why don't I just create a YouTube channel without any videos? While this is possible, I don't recommend it. Just think about it, what's a channel with no videos? It really adds no value. I'm all about avoiding stuff that adds no value because it will always catch up with you (and I'm all about doing the right thing). If you're going to create a YouTube channel, make it something useful. With Fiverr you can build out a high quality YouTube channel with a great video for only $5 and about 1/2 hour of your time.
As a closing tip, I also encourage you to embed your videos on your sites. Video adds substantial value to any website. Search engines like websites that have videos!