Hello Everyone,
Today I'm super excited to present PPC Ian's third video. My first two videos, Who Is PPC Ian? and PPC Automation: Build Vs. Buy were huge hits! The first video now has over 350 views and the second over 125. I'm especially excited about today's video because it features one of my favorite topics of all time: Landing Your PPC Dream Job.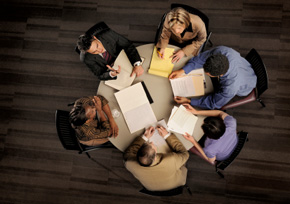 One of the most popular articles on PPC Ian is Growing Your PPC Career With LinkedIn. This is one of the longer posts on my site and highlights in great detail my passive PPC job "application" techniques leveraging LinkedIn networking. Excitingly, last week at SMX West Santa Clara I met with a PPC Ian reader who implemented the tips in this post and subsequently received four PPC job offers. How cool is that!
Today's video is based on my pay per click LinkedIn tips. I discuss several advanced strategies for landing your PPC dream job the passive way, leveraging both LinkedIn and your network in general to your advantage. Networking has been one of my personal strengths and has paid tremendous dividends over the years. I truly hope I can assist in your pay per click job hunt. Thanks so much for visiting PPC Ian and I hope you enjoy this video.
All the best,
PPC Ian (Ian Lopuch)
Video "Landing Your PPC Dream Job" © PPCIan.com (An IJL Productions LLC Website)
Image of Networking Meeting © iStockPhoto – francisblack