I started PPC Ian back in October, 2009 with very high aspirations. I started planning my ascent to becoming the John Chow of pay per click from day one. With blogging fame in mind, I immediately knew I wanted Unique Blog Designs to design and build my blog. After all, Unique Blog Designs also designed the blogs of these famous Internet marketers (and so many more): John Chow, Jonathan Volk, Zac Johnson, and Yaro Starak. Moreover, I immediately had a ton of respect for UBD because they truly understand online marketing. Case in point: They created the amazing Squeeze Page WordPress Theme. I had very specific and high expectations from the beginning and UBD executed like crazy (I give them my absolute top recommendation)!
PPC Ian Works With Unique Blog Designs On Enhancements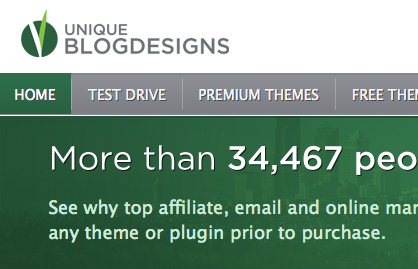 Recently, PPC Ian has been on fire, thanks to all of you (I sincerely appreciate it). As such, I decided it was the absolute perfect time to work on some enhancements to my blog. When I was at SMX Advanced Seattle, I had the great opportunity to meet up with the Unique Blog Designs Team, specifically Matt Blancarte and Josh Mullineaux. It was great getting to meet these guys in person and planning the next round of revisions to PPC Ian. Today, I'd like to walk through UBD's awesome work!
My Awesome New Blog Footer
As my top priority for UBD's enhancements, I wanted a new footer. All the great blogs have slick, graphical footers. More than anything, I wanted a new footer to make the overall design of PPC Ian stand out. I wanted that flashy appeal that only comes with a professionally designed footer. I'm pleased to announce that Unique Blog Designs absolutely killed it when it comes to my new footer (just scroll to the bottom of this page and check it out for yourself).
Basically, we took my simple single row footer from before and totally pimped it out. My new footer features three columns with an additional row below containing my copyright information. In addition to some awesome graphical appeal, my new footer serves three main functions:
It provides an easy way to sign up for my Feedburner Feed. Whether you want to sign up for my posts feed, my comments feed, or both, it's super easy! Just enter your email and you'll automatically receive new posts and/or comments directly to your email.
It offers enhanced site navigation. As PPC Ian grows, I had been quickly running out of space to link to relevant pages in my old footer. Now, I have much more space and more comprehensive site navigation.
Perhaps most excitingly, my new footer now offers a top commentators section. Your heard that right! If you're one of my top five commentators, you will receive a link to your blog or website from my footer. This is a very powerful link as it appears on every page of my site (and is "real" in terms of SEO value). I'm a huge fan of blog commenting. There's nothing I appreciate more than a great blog comment on PPC Ian. As such, I wanted to go above and beyond to reward my top commentators.
PPC Ian Now Supports Advertising
As my traffic grows, I'm starting to explore options to drive revenue from PPC Ian. The obvious place to start? I'm going after some select advertisers with opportunities to advertise via 125×125 banners in my right rail (under the "Ian Recommends" section). Right now, I have a few affiliate banners there. However, I have already signed up my first advertiser (one of my favorite companies in the space) and expect to sign a few more in the coming months. Want to advertise on PPC Ian? Please don't hesitate to contact me about advertising opportunities.
I'm Determined To Grow My Email List
I'm sure you've read it over and over, especially if you frequent blogs about affiliate marketing: The power is in your list. From what I've experienced so far in my email marketing tests, this is absolutely true. As such, I'm totally focused on growing my email list. I originally started building my list by offering my free PPC eBook for simply signing up. Then, I took things to the next level by offering my free PPC Whitepaper by signing up for my new whitepaper series mailing list. Now, I have installed the Standout Comments plugin to gain more subscribers (both to my email list but also to my Feedburner feed). How? It's super easy: When someone comments, I offer the opportunity to sign up for my lists!
PPC Ian Goes Mobile
As you probably know by now, I'm a corporate guy. I absolutely love managing gigantic pay per click campaigns in the corporate setting. I actually work in San Francisco but live on the SF Peninsula. As such, I'm commuting each and every day on Caltrain. What do I like to do on the train? You guessed it: I like to read (and comment) on online marketing blogs. It's always so much easier when you have a great mobile theme. PPC Ian now has a slick new mobile theme to make it that much easier for you to read (and comment) on my blog on the go!
Trackbacks Now Work
I'm a huge fan of trackbacks. What is a trackback, you ask? It's how blogs communicate with each other. When one blog links to another, the blog with the link will ping the other. If you have trackbacks enabled, the blog that got pinged will then automatically link back to the other blog. It's basically a reciprocal link exchange automated. Moreover, it's a great way for the user to find other relevant posts on other blogs. For a while, my trackbacks were not working due to formatting issues. Trackbacks are now integrated into my comments section and look really slick! Want to see an example? Check out the comments section of my new dot co post. While you're at it, don't forget to register your favorite dot co domains!
Graphical Links To Facebook and YouTube
I'm also pleased to announce that my right rail now offers some really slick graphical links to PPC Ian's Facebook Page and YouTube Channel. If you friend me on either Facebook or YouTube, I will be sure to friend you back (please email me if I forget).
One Change We Didn't Make
As you can see, Matt really went all out and made a ton of awesome improvements. There's one, however, that we tried but just couldn't do. Can you guess? It's changing the background color of my posts. We tried experimenting with lighter colors to make it easier to read, but decided to stay with black. Why? Any changes we made dramatically changed the look and feel of my blog and I just couldn't stand to do that. I love my theme just how it is! I know what you're thinking, it's not a best practice to have white text on a black background. Well, it's my firm belief that rules are meant to be broken!
I'd like to close out and thank Unique Blog Designs again! I can't say enough great stuff about these guys. I know I will be doing business with them for years to come and would not trust my blog design to anyone else. Make sure to check out their Squeeze Theme and also Blog Theme Wars sites as well. I sincerely hope all of you enjoy the enhancements to PPC Ian!
Image of Unique Blog Designs Homepage © UniqueBlogDesigns.com