It's hard to believe, PPC Ian is officially three years old! Back on October 29, 2009, I launched PPC Ian with a post about my Passion For PPC and SEM. Since then, it's been three amazing, action-packed years of blogging all about paid search, especially careers in PPC. Today, I wanted to take a few moments to summarize the past few years and especially some recent highlights. Also, I wanted to take this moment to sincerely thank you, my readers!
Some Fun Statistics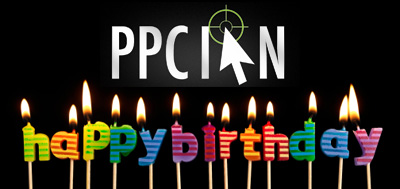 Last year I started my blog anniversary post with some fun statistics. This year, I thought it would be fun to do the same. Following are some fun facts about PPC Ian over the past year:
293 posts (including this one) – Super excited that I'm posting more than ever before, one of my 2012 Goals
2.35 posts/week during the past year – My best pace to-date, I plan to keep a strong pace over the next year
2,311 comments – I cannot thank you guys enough for the valued questions, comments, and feedback
My top keywords: ppc interview questions, sem software, lending club strategy – I was especially surprised that my Lending Club posts gained so much traction and interest
My most-visited post: Quality Score Tips For PPC Landing Pages
A fun statistic in my personal career: I reached my lifelong goal of getting promoted to Vice President in March
Thanks To My Amazing Readers/Friends
PPC Ian has been an amazing vehicle to build long-lasting connections and friendships with my readers. Whether you are an occasional reader, and regular commentator, or the biggest PPC Ian fan around, I cannot thank you enough. I view the connections, networking, and friendships as one of the best byproducts of blogging. Some fun examples:
One of my top commentators became a personal friend. I was able to connect him with an SEM agency that was the perfect fit. My friend now works at that agency.
I developed friendships with a variety of SEM professionals shopping for the perfect SEM platform and/or the perfect SEM agency. I was able to provide sound advice and perspective to help fellow professionals make great decisions. At the same time, I got to learn all about a variety of different businesses and form long-lasting friendships. It's a two way street!
Just in the last year, I spoke at Harrison Metal Capital, Stanford Graduate School of Business, and SV Forum's CXO Forum. My blog has helped secure such opportunities by furthering my network.
PPC Ian helped me recently re-connect with some old friends who started an amazing SEM software company called InsideVault. Now, I have reconnected with my friends and they have decided to sponsor PPC Ian.
Friendships with big time domain name experts including Nima and Morgan Linton have given me strong expertise in the domain name industry. This has helped round out my online marketing toolkit.
Thanks To My Amazing Sponsors
I'm in a truly fortunate position with PPC Ian. I have personally hand-picked my sponsors and only work with companies I truly believe in. Whether we're talking about one of my old-time sponsors like Kenshoo (one of the most amazing SEM platforms around) or one of my newer sponsors like AdMedia (your one-stop shop for all your online advertising needs), I have had the great fortune to work with truly amazing companies. These guys help pay for the costs of running PPC Ian and have provided a ton of the great content you find here.
I want to once again thank you! I truly appreciate your support and please don't hesitate to reach out if I can ever be of assistance. If you have emailed me and I have not responded, please try again (sometimes I get super busy).
Want to learn more about the evolution of PPC Ian? Make sure to check out my first and second birthday posts.
Image of Happy Birthday © iStockPhoto – stuartbur
PPC Ian logo portion of image © PPCIan.com