I'm a few weeks late here, but wanted to take a moment to celebrate the 4th birthday of PPC Ian! That's right, it all started back on October 29, 2009 with my first post about how Passionate I am About PPC. Since then and many blog birthday posts later (1st birthday, 2nd, 3rd), It's been quite the amazing run, both on this blog and in my career/life!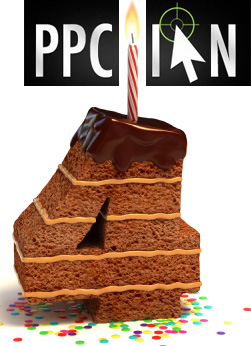 I wanted to start out and sincerely thank you, my loyal readers! I thank you for the emails/questions, comments, post ideas/requests, and, most importantly, support! I also wanted to take this opportunity to sincerely thank my sponsors. Here at PPC Ian, I partner with the best and brightest companies in our industry (folks like Acquisio, Kenshoo, 3Q Digital, InsideVault, and Rocket Clicks), I'm lucky to have such an amazing group of loyal sponsors. It's the sponsors that keep the lights going here at PPC Ian!
PPC really has come a long way since my first post… Some fun statistics:
367 posts (including this one)
2,452 approved comments
26 categories
423 tags
432,346 spam comments blocked thanks to Akismet (unreal!)
~1,468 hours or 36.70 work weeks worth of hard work on PPC Ian. Posts typically do not take 4 hours (only the really long ones), however there is so much work that goes into blogging above and beyond writing posts, such as coding, marketing, networking, accounting, contracts, formatting images, and so much more… It has been a huge, fun commitment!
Over the last four years, I've truly learned a lot. Some of my favorite lessons as a blogger:
My amazing wife, Nicole, is my biggest PPC Ian fan by far! Thanks, Nicole, for the amazing inspiration, support, and ideas.
It's about so much more than PPC. My career in PPC started out in 2004. In 2009, I launched PPC Ian with the goal of empowering and educating pay per click professionals. Now, PPC Ian is all about digital marketing and business in general, although you will certainly find me blogging about PPC quite a bit, even to this day. My day-to-day in 2013 is all about PPC, marketing, customer acquisition, and business/management, in general. I like to mirror those themes here, while still staying true to my PPC roots!
Pay per click can take you really, really far in your career. It's amazing. Don't overlook the huge opportunity in this rapidly growing career, it keeps getting better and better.
Blogging is an incredible way to network and meet others. I have met so many amazing professionals as a result of PPC Ian. It's all about the people!
Blogging requires incredible determination and hard work. However, the lessons you learn about SEO, coding, writing, social media, and marketing in general are priceless. PPC Ian has provided a true wealth of knowledge, and I am thankful for the lessons.
Blogging is challenging. These days, I am so incredibly busy that I rarely have any free time. That said, I always make time for PPC Ian! It's totally worth it. I have so much respect for anyone who blogs on a consistent basis, this is not easy work!
Thanks everyone for reading and I hope you will follow PPC Ian for the next four years and beyond! Lots of excitement ahead!