There's been a clear theme in our industry: Everything is connected! When you're running solid PPC and SEO programs in tandem, 1 + 1 = 3. There is a multiplier effect, especially when the intersections are managed thoughtfully. While most subscribe to the network effect of PPC and SEO, I wanted to share another network effect today, the one between Search and Social. Long story short: If you manage Search but aren't involved in your Social program (or vice versa), you are leaving some serious opportunity on the table. It's time to get involved!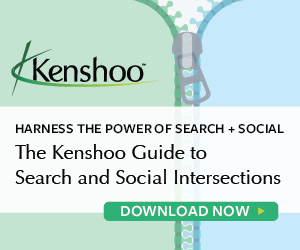 To illustrate this point, I'd like to share Kenshoo's latest free whitepaper, The Kenshoo Guide To Search and Social Intersections. I just finished reading this free 18-page whitepaper and it's awesome, a must-read. (If you've been reading PPC Ian for a while, you know I'm a fan of whitepapers and always enjoy sharing my favorite ones here. They provide such an easy and leveraged way to bring bright new ideas to your organization.)
So, what did I learn in Kenshoo's new whitepaper? Some highlights:
The four largest reasons why Search and Social are the next channels that should be integrated at any organization. Kenshoo makes it very clear and helps provide rationale you can leverage at your own company, as you pitch the idea.
The ways in with Search and Social complement each other. (Digging into the PPC Ian vaults, I also recommend checking out my review of Kenshoo's prior whitepaper, Facebook Advertising Boosts Paid Search Performance. This is another great read, with clear evidence on how Facebook Ads assist the PPC channel.)
So you've decided to integrate Search and Social… Well, what does that look like? Kenshoo provides specific examples of Search signals for Social and Social Signals for Search. It's a two-way street and you can clearly see how each channel complements the other. You'll take away tactical insights on things you can do right now to amplify those synergies.
Channel integrations can present challenges. I enjoyed learning about potential challenges and also solutions for those challenges.
Kenshoo brings it home with advice on adding value to the rest of the marketing plan. We're mid-year, but that doesn't mean your marketing plan cannot change, especially as you plan for Q4 (retail vertical, anyone?). Now is the time to lock down your plan, and see how a Search and Social integration project could add substantial value to your plan.
With the weekend approaching, make sure to take some time for education and reflection. Read a whitepaper each weekend, such as this one, and you will be a superstar at your company, full of new ideas each and every week!
Image of The Kenshoo Guide to Search and Social Intersections © Kenshoo