It's been a while since I've posted here on PPC Ian. I'm so incredibly excited to be blogging again. I wanted to take a moment to share some exciting updates so you know what's going on in the world of PPC Ian. Also, I wanted to share some recent thoughts on life and business. First, a cool picture, from my recent London/Paris vacation: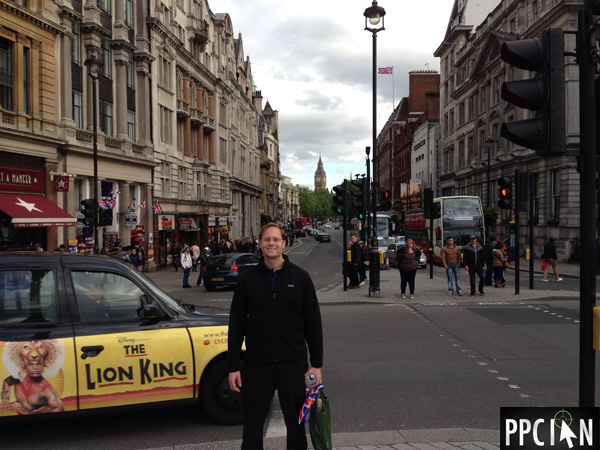 Let's start with some fun updates. Why haven't I been blogging as much?
My wife, Nicole, and I recently traveled to London and Paris. Nicole had business in London so I made sure to take advantage of this amazing opportunity and tag along. Above, you can see a cool picture of PPC Ian in London! I plan on doing an entire post about our journeys in Europe. We had the time of our lives, and experienced so much amazing culture. My London/Paris post is going to be a long one, reminiscent of some of my old Hawaii posts. (Side note: We visited Hawaii last summer, and I never blogged about it. So bummed out that I never wrote about that vacation, I'm going to make sure to blog about London/Paris soon.)
While in London, I attended Adobe Summit EMEA, one of the best digital marketing conferences I have ever experienced. There have been a lot of these lately. (Check out my post about AdWords Performance Forum 2014.)
I've been running, a lot. I'm slowly but surely getting back into great shape. My strategy of running right after work before I ever head home has been working wonders. I'm putting my tips about Great Ways To Exercise During The Workday into action, and even have a 5k run coming up soon. I'm a huge believer that exercise and a healthy lifestyle lifts one's overall well-being.
I have been given a tremendous amount of responsibility at work. I do not think I have ever worked so hard in my entire career. It's simply amazing, and I'm honored to be in such a fortunate and exciting position. My hard work is truly paying off. This has given me a little less time for other endeavors, such as updating this blog, but I'm determined to make just a little time for myself each and every day, and take my efficiency and productivity to a whole new level. With less time and more responsibility comes the need to work with great speed.
With my recent European travels and responsibility at work, many exciting thoughts and theories have been running through my mind. Here are some of my high level thoughts and priorities:
There is so much cool stuff out there. It had been quite some time since I have had the opportunity to visit London and Paris. This vacation truly opened my eyes, and re-ignited my passion for travel. I'm looking forward to future opportunities to travel to exciting places.
Work time and personal time is a blur. I'm basically working days, nights, and weekends. Fortunately, I do what I love, leading an amazing team of professionals and helping others (through the practice of Customer Acquisition Marketing). That said, it's easy to get bogged down in the work and forget about yourself. I'm consciously trying to set time aside to exercise, write, and get personal stuff done. Modern-day tech jobs are very different than traditional employment. I'm extending a very flexible work environment to myself and my team, understanding that personal stuff needs to be blended in throughout the day during breaks. I'm looking at things more as a continuum as compared to work time vs. personal time.
When you're really busy, don't forget about the people. I have personally caught myself from time-to-time keeping conversations very short/frank to optimize time. I'm all about time-optimization and productivity. However, people are the one place where you do not want to cut corners. It's all about relationships and people. For that reason, and because I love helping others, I'm trying to be more productive while maintaining my high level of priority on the friendships and partnerships that truly matter.
It's ok to say "no", you can't do everything. Focus in on the people and opportunities that matter the most. Say "no" to the rest. Invest where you are doing good and/or where you will see returns in the future.
I know it's been a while since I've posted here at PPC Ian, so I truly appreciate all of you who are still reading and hanging around! Your support means so much, and I'm wishing you all the best.
Image of Ian Lopuch in London © PPCIan.com