Do you advertise on Facebook? How about PPC (Google AdWords and Bing Ads)? If you're a digital marketing professional, the answer is most likely a huge "Yes!" Both channels (Facebook/social) and also PPC are great on their own. However, have you ever wondered, does my Facebook advertising impact and assist my paid search? Many of us believe so, but have never performed a formal study to prove the correlation.
Thanks to Kenshoo, the leader in Bid Management Software and Social Advertising Platforms according to Forrester, I'm thrilled to share some answers. Kenshoo recently published a free whitepaper that proves a correlation between Facebook and PPC: Facebook Advertising Boosts Paid Search Performance.
I'm a huge fan of Kenshoo; They are all about tracking, analytics, technology, and innovation. Long story short, they are perhaps the best company to do this type of study. They have deep roots in this type of analysis, and that's something I respect incredibly about Kenshoo.
Some high level findings (download the free whitepaper to learn more about the particular experiment, and how it was conducted):
+30% ROAS (Return on Ad Spend)
+24% AOV (Average Order Value)
+7% CTR (Click Through Rate)
-4.5% CPA (Cost Per Acquisition)
Figuring out budgets and media allocation for 2014? Make sure to set aside some extra funds for Facebook advertising (knowing the positive impact it has on core PPC), and don't forget to reserve funds for amazing technologies such as Kenshoo!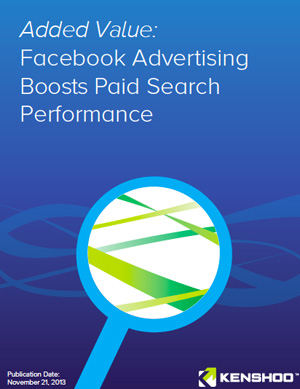 Image in this post © Kenshoo