I'm a tremendous fan of presenting at digital marketing conferences. In fact, I Recently Spoke at SMX East. Public speaking is such an adrenaline rush, and am amazing way to give back to the digital marketing community.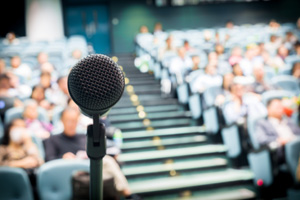 When my good friends at 3Q Digital extended the opportunity to write a guest post for their incredible blog, I just couldn't resist one about public speaking. (Especially because their very own Jay Stampfl was on the panel about Advanced Bidding Strategies with me at SMX East.) Make sure to head on over to the 3Q Digital to read my Guide To Presenting At Digital Marketing Conferences.
I put a lot of work into this guide and cover all sorts of cool stuff:
Why Present? I give all the pros of presenting (there are many of them).
How To Score Your Speaking Opportunity. These are not easy to get, but a little hard work (and a savvy strategy) will get you there in no time.
How To Prepare. The best presentations come from attention to detail in the preparation phase.
Thinking about speaking at a digital marketing conference? Don't know where to start? I hope my guide helps, and hope to see you speaking at the next big industry event!
Image of Public Speaking © iStockPhoto – uschools