I'm such a fan of Acquisio. These guys have built one of the most amazing performance marketing platforms in existence, one of the most popular for both agencies and direct advertisers. Back in April, I attended ad:tech SF and met with the Acquisio team. It's there that I first learned about their new bid and budget management algorithms. Since then, they have fully released this new functionality, along with some amazing public case studies. Today, I wanted to take a quick moment to share their new enhancements, and then encourage you to head on over to Acquisio and arrange a demo!
With their new bid and budget management enhancements, Acquisio is upping the game when it comes to digital advertising. The three biggest highlights in my opinion:
Bids are now updated every half hour! Most bid management platforms these days update bids daily. Imagine how much more efficiency is possible when you're updating bids every half hour, based on intra-day data! The BBM algorithm is the brainchild of Acquisio's Science Ops acquisition, an algo company that was working with NASA.
Budgets are updated throughout the day based on intra-day performance. Great performing campaigns have an opportunity to scale and spend more money, low performing campaigns get throttled down. Budgets are shared across your suite of campaigns.
Acquiso BBM is fully compatible with all other bid management platforms, and is technology that sits outside of the core Acquisio platform. Therefore, even if you are in contract with another automation platform and are not able to move over to Acquisio, you can still leverage the BBM technology.
Already, Acquisio BBM has driven incredible results. I encourage you to check out the Strathcom Media case study. Strathcom experienced twice as many clicks after implementing BBM in most cases, and experienced tremendous improvements in budget management.
I'm personal friends with Acquisio EVP and Co-Founder Marc Poirier. I'm really thrilled with their new BBM technology, and feel that it's a major innovation in our industry (one of the biggest of 2013). Way to lead us forward, Acquisio!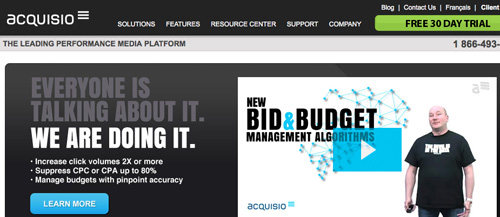 Image in this post © Acquisio