Over the last 5 years, Facebook stock (Nasdaq: FB) increased from from $31.91 to $94.97 (using closing prices available on Yahoo! Finance). That's an increase of 198%. During the same period, the overall Nasdaq composite increased 67%. Why did Facebook perform so well? How did Facebook outperform the broader Nasdaq, comprised of tech-centric companies? I'll tell you how: Facebook advertising emerged as one of the most scalable and powerful digital marketing ecosystems around. Moreover, Facebook advertising forged the path for incredibly successful mobile advertising, a primary focus of digital marketers everywhere.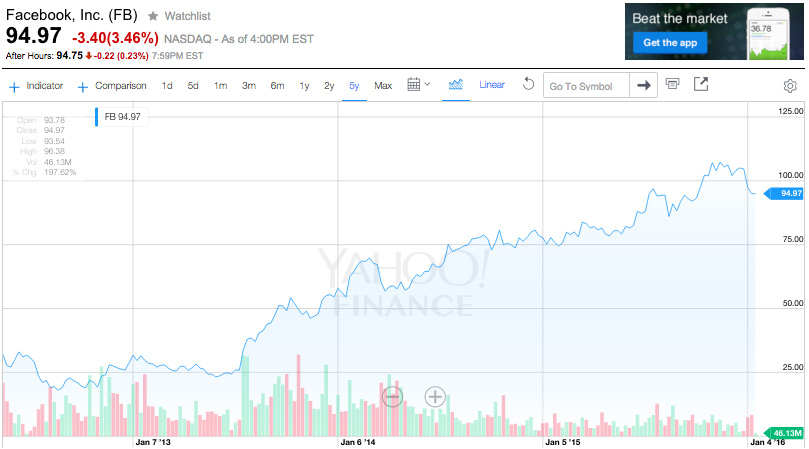 A few years ago, I wrote a post here on PPC Ian about How I Drove 3,156 Facebook Likes For $0.31 Each. Two weeks ago, I wrote a post about How I Drove 24,747 Facebook Likes For $0.04 Each. Over the years, I have evolved and improved as a marketer. That being said, my increased performance is also a function of the evolution of Facebook as an advertising platform. Facebook advertising works better than ever and savvy marketers are doubling down on their Facebook advertising investment.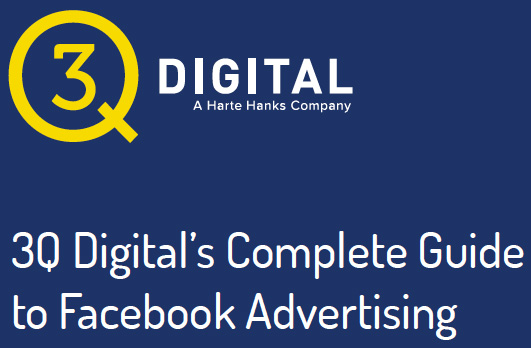 Are you constantly evolving as a Facebook marketer? I know I am! Enter my good friends at 3Q Digital, the same digital marketing agency that hosted the incomparable 3Q Digital Growth Summit. In the must-read whitepaper of 2016, 3Q Digital's Director of Social, Brad O'Brien, drops 19 pages of pure knowledge on Facebook Advertising. I'm thrilled to share 3Q Digital's Complete Guide To Facebook Advertising.
Each weekend, I try to read a digital marketing eBook. I have found this strategy incredibly effective in my career, as someone who's always learning. Below, I'd like to discuss the overall structure of this guide, as well as my favorite findings. First, the structure. Over the course of 19 pages, Brad O'Brien goes into depth on each of the following topics:
Tracking
Account Structure
Elements of Ad Sets
Acquisition Campaigns
Retention Campaigns
Ad Units
Second, my top findings. I took many insights away from 3Q Digital's guide, with the following being my favorites.
Brad goes into depth on Facebook tracking changes happening later in 2016. Learn how you can set things up correctly, right now, so you avoid changes to your tracking later this year.
There are so many audience-targeting opportunities on Facebook, each with its own strategy. Learn all about custom audiences, website custom audiences, lookalike audiences, audiences by seasonality and customer LTV, and audiences based on interests, behaviors, and demographics. That's a lot of audiences!
On page 11, Brad includes some incredibly helpful bidding strategy tables that I recommend printing out. With so many different bidding options available, Brad makes your strategic path easy with his decision tree.
On page 15, 3Q Digital includes some wonderful creative tips, a true must-read. At the end of the day, Facebook advertising is only as successful as your creative. I personally took a few creative ideas away from this page.
As always, 3Q Digital's Complete Guide To Facebook Advertising is free. Download and read this guide today, and raise your Facebook advertising game to the next level. Thanks, Brad and 3Q Digital for the truly outstanding guide.
If you're looking for a marketing agency to help with your digital marketing, I highly recommend 3Q Digital. They are Silicon Valley's agency, and truly outstanding. They are also personal friends of mine of many years, and a team I am constantly learning from.
Images in this post © Yahoo! Finance and 3Q Digital