I'm a huge fan of Yahoo! Back in December, I posted about how Yahoo! Rich Ads Are Back. Recently, I have noticed Yahoo! pushing the limits of organic search as well. Go to Yahoo! and type in the word "refinance". A screenshot of the results is below. Check out the Quicken Loans result. I'm totally thrilled with the integration of the mortgage refinance rate table right into the organic result.
This was the vision of the Search Alliance all along. Yahoo! and Microsoft partnered so adCenter could power the paid and organic results on both search engines. However, Yahoo! always had the plan that they would focus on user experience and advanced add-on functionality on top of the standard results. It's awesome to see this vision turning into reality. Great work Yahoo! Want to customize your organic search results on Yahoo? Reach out to your account management team and see what beta tests may be available.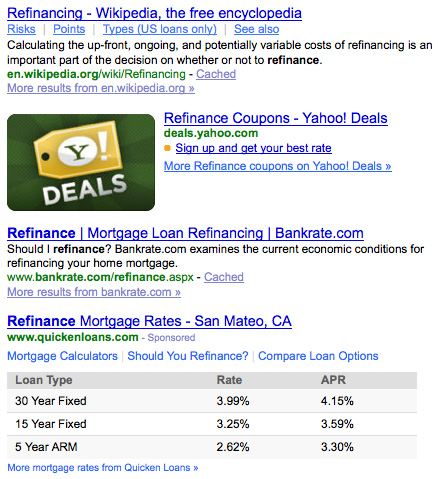 Image in this post © Yahoo!