Check out the screenshot below. It's the Google organic search results for the keyword cheap auto insurance. As you can see, three out of the top six results are low quality affiliate sites. The savvy online marketer can tell right away. For me, it was the excessive use of caps and the fact that the sites are non-brand names. These days, especially for competitive insurance terms, it's typically the brands that rank (with maybe one or two really high quality affiliate sites mixed in).
While the screenshot below highlights the Google organic results, I am experiencing the exact same phenomenon on Yahoo!/Bing as well. Someone is definitely going aggressively after the insurance industry. And, it's been going on for a while. I have seen such results for at least 3 to 6 months.
A few key takeaways from this situation:
If you're in the insurance industry, keep a very close eye on your organic program. It may be suffering due to these low quality results pushing down your organic program.
The search engines need to figure out how to stop this stuff, it's just embarrassing from a user standpoint.
I dislike seeing this stuff because makes a bad name for affiliate marketers and affiliate programs.
So, what do you think? Have you been noticing similar low quality results in your vertical?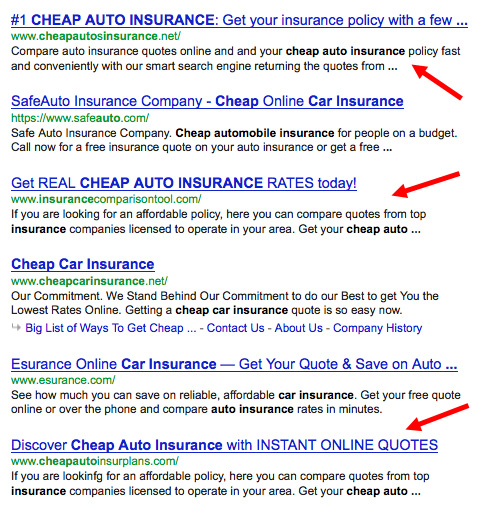 Image of Google search results © Google