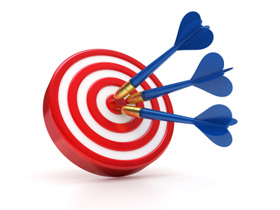 A while back I wrote about Six Essential Campaign Checks. These Google AdWords and Microsoft adCenter checks are just a few of my favorite daily checks. Today, I wanted to highlight some important Google AdWords campaign-level checks that I like to perform every few months (typically every quarter). These checks will often yield some great quick wins in optimizing your PPC account, especially if you have a large team, big budget, and complex program.
Tip 1: Check For Missing Sitelinks
I'm a huge fan of sitelinks. Now, Google is displaying up to Six Sitelinks in paid search. However, if your campaign is missing sitelinks, they won't deliver! Make sure to regularly go through your AdWords campaigns to verify that they all have at least six sitelinks.
Tip 2: Check Your Ad Rotation Settings
These days, Google offers several ad rotation options: rotate evenly, optimize for clicks, and optimize for conversions. Rotate evenly is rarely the right setting, unless you are testing ad copy. Sometimes, after tests have concluded, we all forget to return the settings to optimize for clicks or optimize for conversions. This optimization is super easy: Check your campaign settings and make sure the ad rotation settings are consistent and correct.
Tip 3: Check Your Delivery Method
When I'm testing a new campaign, I like to leverage a low budget (maybe a few hundred dollars/day). Once a campaign is proven, however, I like to raise budgets and change my delivery method to accelerated. Make sure to audit your campaign settings: Did you forget to move over from standard to accelerated? You never want to cap the delivery of a highly profitable, proven campaign (that is, unless you truly have a limited budget to work within). Also, while you're at it: Make sure your budgets are set correctly. Great performing campaigns can easily outgrow old, small budgets.
Tip 4: Check Your Negative Words
Google seems to get more and more aggressive with its (expanded) broad match over time. As a result, I'm spending more time and getting amazing results deploying new negative keywords. Sometimes when I generate new negatives, I may add them to the campaign which helped generate them. However, if you block a bad query in one campaign, it could always pop up in another. From time to time, make sure you have parity in your campaign level negatives across all your campaigns. Of course, there always will be a few exceptions (and it's important to keep track of those so you don't mistakenly deploy them to other campaigns).
Tip 5: Check Your Networks, Devices, and Geo-Targeting Settings
Settings can make such a difference in your campaign's performance. As just one example, I like to separate out tablets and smartphones (rather than blend them into my desktop campaigns). Sometimes, however, settings can get mixed up (especially with a rapidly growing/changing account). Make sure your targeting settings are correct and you can instantly improve your bottom line.
Image of Bullseye © CGinspiration