Hey everyone, it's Sunday night and I waited a little late to blog, so I have a quick post for you tonight. That said, it's a good one! Today, I'm thrilled to share a Google AdWords tip that will give you instant leverage.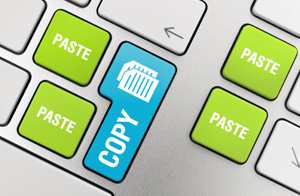 If you've been advertising on Google AdWords for a while, you probably know that double serving is prohibited – most of the time. Google is all about user experience. They want each business to show up one time. If you have a duplicate site that provides the same experience as your main site (or links into your main site as a "doorway page"), that does not add to user experience. It wastes the user's time.
There's one rare case where double serving is allowed: The case of acquiring businesses. Let's say you own a business and advertise on AdWords. Then, let's say you acquire another that already advertises on AdWords (and provides different user experience than your main site). In this case, you should be golden – you can continue to double serve as long as the two businesses remain different. (A quick tip: Let's say you plan to acquire a business. You may want to ask your Google account management team if you would be able to double serve. It's always best to know this type of stuff up front, before spending money.)
Now, onto today's tip… Paid search is getting super competitive. You will get a ton of leverage via traditional PPC optimization – keyword generation, bidding, ad copy testing, landing page testing, etc. However, it's also possible to get leverage by "cleaning up" the landscape. Audit the competitive landscape. Look at all geos. Search at different times of the day. (Side note: Tools such as Adgooroo can help greatly with this type of analysis.) See if any of your competitors are double serving. If they appear to be breaking the rules, alert your Google account management team. See if they can run it by their policy team. In many cases, they will pull down the double serving. The result: Less competition for you! Hope this quick tip helps. Sometimes, it's not only about optimizing your account, but it's also about keeping the landscape as clean as possible. At the end of the day, this type of policing will help improve the experience for those searching in your vertical, and your bottom line too.
Image of copy/paste double serving © iStockPhoto – pressureUA