Last night, our Google AdWords team treated myself, my team, and leaders from my employer to the Giants/Dodgers game. We had so much fun enjoying the game from Google's luxury suite at AT&T park. It was honestly one of the best networking events I've experienced with Google. It was a great game too – The Giants won in an 8-0 victory. Thanks Google, we cannot thank you enough!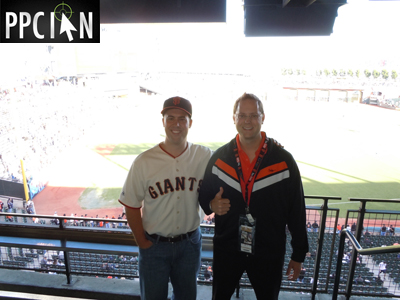 A few weeks ago, our Yahoo! account management team traveled to Silicon Valley and took us to a gourmet lunch (one of the best meals I have experienced in months). That day, we also spent hours planning strategies to grow our adCenter campaigns. Yahoo!, we cannot thank you enough, you rule! I am so thankful for the amazing friendships that I have made with Google, Yahoo!, and Microsoft's world class teams.
This is a quick post today since I was out late at the game last night. The main point: I have found in business that it's all about building world class teams. Spend time to really get to know your search engine reps and support teams. They are amazing and I couldn't imagine running enterprise SEM accounts without their support and guidance. As a team, you will uncover amazing opportunities and take your paid search engine accounts to new levels.
Image in this post © PPCIan.com