Have you heard of Quora? It's a really cool continually improving collection of questions and answers. Founded by two former Facebook executives, Quora is one addictive site. I joined Quora a few weeks back and have already answered six questions about online marketing.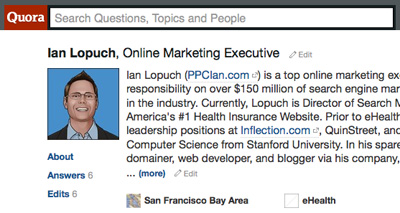 I'm really excited about Quora for two main reasons. First and foremost, it provides a great way to help others in the online marketing community. PPC Ian exists to educate and empower online marketing professionals. Quora gives me even more leverage in achieving this goal!
Second, Quora provides an amazing way to build my own career and network. It's all about networking in the search marketing career path. You may wish to check out my post about Growing Your SEM Career With LinkedIn or my video about Landing Your PPC Dream Job. It's all about knowing your stuff while also networking and marketing yourself. Quora now provides another way to achieve this goal.
Please make sure to check out my Quora Profile (where you can read all my answers). If you follow me, I will follow you back! I'm now regularly answering online marketing questions on Quora with many more answers to come.