For those who have been reading PPC Ian for a while, you know that I'm a fan of investing. Investing is a passion of mine, and it makes sense, it's all about the numbers (just like customer acquisition marketing). Today, I wanted to write about Lending Club, and why Lending Club is especially relevant to those of us in the digital marketing field. Disclaimer: I'm not a financial advisor and this is not financial advice. Please consult your own financial advisor before making any investment decisions.
First, an update…
I started writing about Lending Club back on February 26, 2012. Some of my historical Lending Club Posts: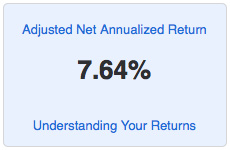 When you look at my historical posts, I like to include a screenshot in each that shows my account stats, especially my net annualized return. Here's how it's trended:
Feb 26, 2012 Net Annualized Return: 13.16%
Apr 23, 2012 Net Annualized Return: 12.99%
July 3, 2012 Net Annualized Return: 10.76%
So what's my current net annualized return after several years of investing via Lending Club? I'm at 7.64% as of July 13, 2014. This isn't as good at the 13.16% from my first post over 2 years ago, but certainly isn't bad given current interest rates available via other alternatives. Moreover, my net annualized return has been trending in the 7% range for a while now (I feel like it's somewhat steady in its current range). I'm happy with my performance and expected it would even out in its current range for a few reasons:
New accounts have very few defaults because they are new. Over two years later, I have experienced a handful of defaults. These are to be expected and have lowered my overall return. We're comparing a mature account to a brand new one.
My principal and interest reinvestments have largely been focused on lower-risk loans. These carry lower interest rates. I wanted to start building my portfolio with a low-risk base, and layer in higher risk loans once the base is established.
In today's market (more on this later), 7.64% net annualized return is no joke, that's a great number, one that can generate some serious returns when compounded over time for a number of years. I'm hoping it holds in this range for the long-term!
I'm adding to my Lending Club portfolio, and it complements my digital marketing career
These days, I'm focused on building my Lending Club portfolio for a multitude of reasons. I wanted to share why I think it's great for digital marketing professionals and why I'm so focused on Lending Club.
Did you know that Google Invested In Lending Club? As a digital marketing professional, I watch Google very closely, not only their core Search business, but their investments across-the-board. Google's investment in Lending Club makes Lending Club even more relevant for those in the digital marketing career, from the simple perspective that Lending Club is now partially Google-backed. Become a Lending Club investor and you have one more lunch/dinner conversation topic for your Google meetings as well. I'm a big fan of finding common topics of interest in networking and building one's career. Lending Club is a great topic!
Did you know that one of my old bosses is on the management team Lending Club? As someone who was a really super boss (and someone who gets digital marketing), I put a lot of faith in the Lending Club platform for this reason. Lending Club has a solid management team. It's all about the people, and I like to invest in great people and great management teams.
Lending Club offers financial flexibility via massive cashflow, more than most other investments I have experienced. Do you live in the SF Bay Area or another expensive area? Chances are "yes" if you work in enterprise-level customer acquisition. As someone who knows first-hand how expensive it is to live around here, I like investments that offer flexibility. Lending Club is just that. On a regular basis, you receive cash flow from Lending Club, both principal and interest. It's up to you whether you want to reinvest that money or withdraw. If it's a time where you need some extra cash, you can just withdraw the principal and interest as it's paid out. The coolest part: You don't have to sell any loans to access the cash flow. There have been times when I have needed some extra money and I have withdrawn from my cash flow. There are other times (like recently) where I have reinvested. For this reason, I view LendingClub as a very flexible vehicle.
There are not a lot of investment opportunities right now that offer superior levels of return. In the Bay Area, real estate prices are sky high. The stock market is at all time highs (although there are pockets of opportunity for savvy investors). By disintermediating the middle man, Lending Club has carved out a niche where you can still receive some great returns on your invested capital.
It's really fun. I like to mine through data, as a data-driven digital marketer. Lending Club offers a ton of data and opportunity to get as detail-oriented as you want when choosing your strategy.
I like helping others! Each time I invest $25 in a Lending Club loan, I can sleep at night that I'm helping someone out. Lending Club offers great interest rates to borrowers and helps people in their time of need: Credit card debt consolidation, financing work on their home, funding medical expenses, and so many other scenarios. I feel like I'm investing in people. On the flip side, I feel like the borrowers know that and do their best to pay back the loans since their fellow peer is helping them out. Great returns come to those that help others.
As always, it makes sense to be financially prudent, and only invest what you can afford to lose. Why not start small and then add a little bit over time? I personally take advantage of recurring auto-deposits to my Lending Club account so I'm able to invest in a few new loans at a time, on a recurring basis. This spreads my risk (in case a group of bad loans are clumped together) and also since I'm only risking a little bit of money at a time.
Important Disclaimer: I'm not a financial advisor and this is not financial advice. This post is just for entertainment purposes. Please consult your own financial advisor before making any investment decisions.
Image in this post © PPCIan.com