A while back, I blogged about Marin Software's Q4, 2011 Online Advertising Report. Today, I'm thrilled to share with you Marin Software's Q1, 2012 Online Advertising Benchmark Report. In my opinion, this is the best PPC benchmark report ever!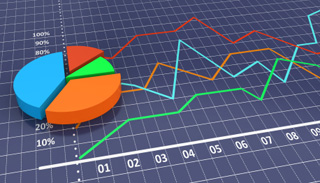 If you're in the corporate world of online marketing, it's super important to keep a pulse on the market. You need to explain trends, predict the future, and understand how you stack up against the competition. Tools such as AdGooroo can help on a tactical, keyword-by-keyword level. Benchmarks from your reps at Google and Yahoo!/Bing can help with high level industry-specific trends (especially if you spend a lot of money and have dedicated reps at the search engines).
All of these data sources are awesome! However, let's say you want a little more information. Let's say you want data by industry that shows trends in major search metrics (such as impressions, clicks, CTR, CPCs, spend, and usage of match types). Let's say you want to understand trends in clicks and spend by device. Let's say you want to understand overall search marketing strategy from leading advertisers? You will find this information (and so much more) in Marin Software's Q1 Online Advertising Benchmark Report. Marin is in a truly unique position (with over $3.5 billion annual spend being managed by their platform) to aggregate data anonymously and provide stellar search insights.
I highly recommend downloading this report (it's free) and then sharing with your co-workers. There are some real interesting trends and insights that will help drive your overall business. At the end of the day, benchmarking is a critical part of the online marketing planning process. Leverage Marin's report to benchmark and plan your search marketing strategy.
Image of pie chart © iStockPhoto – Violka08