Earlier this week, I was lucky enough to attend my company's leadership team offsite. It was held in the Sacramento area at Thunder Valley Hotel and Casino. After an incredibly productive and intense offsite, we went over to the Granite Bay Country Club for a round of golf. This marked my second big work-related golf outing in the last few months (I played in the Randy Cross Invitational at Stanford Golf Course back in May). And, I'm already set to play in another tournament in September, again at Stanford Golf Course. I really enjoy these golf opportunities, and highly recommend them for anyone in the online marketing career path. Following are some of the main reasons I love these golf outings…
They present an amazing opportunity to really get to know your co-workers. After a round of golf, you can truly get to know somebody.
Golf presents a great way to meet co-workers who you may not work with on a day-to-day basis.
If you're on an upward career trajectory (as I'm sure you are since you're reading PPC Ian), golf helps build leadership skills. Golf helps make a name for yourself at your company.
Oftentimes, golf tournaments benefit charity. It's an honor and privilege to represent your employer in that capacity. Giving back is so important. Remember to donate whatever you can afford as well, whether that's time and/or money.
Golf is a great way to connect with partners and clients. Marin Software took a co-worker and I to the US Open recently. It was an amazing experience, thanks Marin! If you work at an agency (side note: I recommend Rocket Clicks and PPC Associates, they truly rule), you could leverage golf to connect with your clients.
It's great fun and super exercise. You can enhance your online marketing work by staying in great shape. Golf keeps your mind clear.
As a closing tip, I wanted to point out that our golf event had players of all levels. It doesn't matter if you are a beginner. Get out threre and have fun. Even if your score is not great, just remember to have fun and keep a great attitude. Follow these tips and you'll be on your way to career success, while having a blast!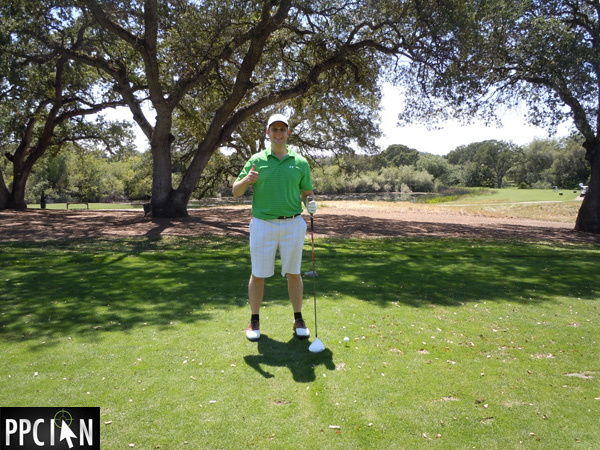 Image in this post © PPCIan.com