I'm a huge fan of giving back and charity. In fact, giving back is one of my top 2013 goals. Recently, I had the honor of playing golf in the 9th annual Gatepath Golf Classic at the Stanford Golf course. You can see a picture below, it was an amazing round of golf and a true honor. I enjoyed golfing with co-workers, donating money to Community Gatepath (they had mulligans for purchase, a special "Vegas" hole, and a raffle), and overall supporting an amazing cause.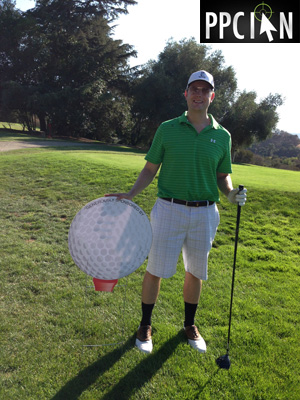 Community Gatepath is all about turning disabilities into possibilities. The provide support and education to both children and adults with disabilities, helping them learn and grow. Community Gatepath opens up doors and opportunities, and is such an amazing cause to support.
I'm truly fortunate to work at a company that supports and values charity events like this one. I'm all about living and working in a values-driven environment.
I find that the more you give, the more you receive. A fun story… Just about a year ago, I had the honor of playing in several other charity golf tournaments. At most of these events, they have a fun raffle with the goal of donating money to the charity being represented. I always try to participate in the raffles and donate as a fun way to give back. At the Friends For Youth tournament about a year ago, I won a one night stay at the wonderful Garden Court Hotel in downtown Palo Alto.
Nicole and I have been so busy over the past year that we hadn't enjoyed our free room at the Garden Court yet. So, we decided to take a break this past weekend and enjoy our raffle win. We had a true blast. They upgraded us to a top floor suite. The room had a skylight, separate living room and bedroom, balcony, and large bathroom with separate shower and tub with jets. The hotel has been renovated in recent years and I highly recommend checking it out. We truly enjoyed our time into downtown Palo Alto, and had fun times at some old favorites including Il Fornaio restaurant and Acquarius Theatre. I never expect to win anything in these charity raffles, the fun is truly in giving back and helping others. However, I always seem to find that the more I give, the more I get back!
I wanted to take this opportunity to also give a shout out to my good friend Marc Poirier, Co-Founder and EVP of Business Development at Acquisio. I try to surround myself with others who are values-driven business leaders. Marc is truly that. Despite being one of the most influential and busy leaders in our industry, he always makes time for others. One recent example: Marc is raising money for the Make A Wish Foundation, via biking in the 48-hour Ride For Wishes. I am incredibly impressed, and I was sure to donate in sponsorship of Marc. Just one more reason to check out Acquisio, in addition to their amazing technology, their culture is one of helping others and giving back.
I also wanted to take a moment to call out my good friend Steve Kroll, President of Rocket Clicks, another values-driven business leader. Steve is someone who had done incredible things with his career, and always looks for ways to grow his team. I typically find that those who help others go incredibly far in life and business. If you're looking for a digital marketing agency, make sure to check out Rocket Clicks!
Do you enjoy helping others and supporting charities? Make sure to give back each and every day, it's truly an honor and privilege!
Image of PPC Ian Golfing © PPCIan.com