Digital marketing is moving rapidly and evolving faster than ever. That's why it's really important to take a holistic look at your 2017 strategy now, while the year is still young. As a digital marketing and business leader, it's not enough to follow and adopt the latest strategies. You need to predict the future and invent those strategies that will transform your industry.
I try to brainstorm new business strategies every single week. Sometimes, I brainstorm while running. Other times, I brainstorm while reading. At times, ideas just come to me in my sleep. Frequently, great ideas come to me while collaborating with others. The collective intelligence in our industry is quite high! Today, I'm thrilled to share a collaborative brainstorming opportunity that could take your 2017 business strategy to the next level.
It just so happens that Acquisio is hosting a free webinar on Wednesday, January 18, 2017 at 1PM EDT covering the 2017 Digital Marketing + Local Landscape.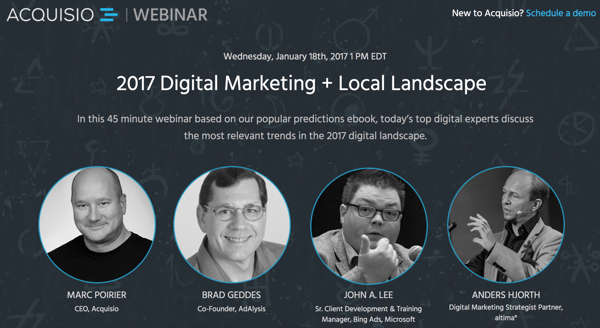 Acquisio is one of my favorite companies in the digital marketing industry, and one of the most impressive performance marketing platforms around. More than anything, their team is impressive. I know that Acquisio's webinar will be impressive and offer new and exciting perspectives on the future. My advice when attending: Put your own spin on the ideas. Allow the collective intelligence of the webinar to shape new and unique strategies that apply to your business.
In Acquisio's webinar, you'll get to hear from their CEO, Marc Poirier, a personal friend of mine and thought leader in our industry.
Also, you'll get to hear from several esteemed leaders in online marketing including Brad Geddes. Brad is a really impressive marketer, and I had the honor of meeting him a few years back when he moderated my SMX East panel.
Being free and only 45 minutes in length, I highly recommend taking out time from your busy day to enjoy Acquisio's free webinar. I view this webinar as a high-leverage investment in yourself and your company. And, while we're on the topic of 2017 predications, please make sure to check out my recent G5 interview to learn my very own 2017 predications. I wish you all the success in the world in 2017 and beyond!
Image of Acquisio webinar © Acquisio