If you checked out My Free PPC Webinar Co-Presented With G5, you know that my business partnership with G5 is top notch. As many of you know, I pursued my lifelong dream of being a full time investor about a year and half ago, entering the commercial real estate space. One of my favorite partners is G5, the platform that powers some of the best commercial real estate marketing strategies across self storage, multi-family, and senior living. Today, I have more G5-related news! I had the honor of Being Interviewed By G5.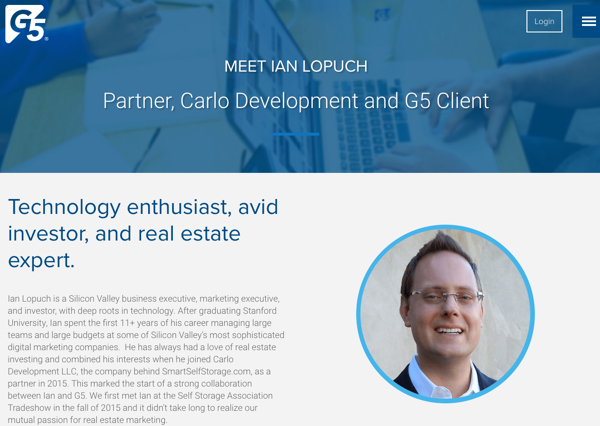 What will you find in my G5 Interview?
Ian's passion for digital marketing: How it all started.
PPC: My career started here. What's my outlook for the future of PPC?
Mobile: How it's affecting our business and how we're embracing the change.
The Future: What will happen in digital marketing over the next 5 years.
Our Business: Learn about our company and our website strategy.
Online Self Storage Pricing: It's all about the back end data layer, and G5's integration with SiteLink.
Partnership: How I work with G5 every single day.
So much more!
I hope you enjoy the interview, and I want to take this opportunity to sincerely thank G5 for the honor. You guys are the best business partners around, and I am so thankful every single day for the G5 team.