I'm a huge fan of geo-targeting. While it's been around forever, there are so many unique and great ways in which you can leverage advanced geo-targeting. So, when I got the opportunity to write a guest post on the amazing PPC Associates blog, I thought it would be a super idea to share my Top 5 Geo-Targeting Tips. Have you heard of PPC Associates? They are Silicon Valley's SEM Agency, and have a truly great blog (one of my favorites). Also, they have one of the best teams around. I'm really honored that my guest post got a lot of interest and even made Search Engine Land's Day In Search, May 2, 2013. Please check it out and let me know what you think! Do you have any special geo-targeting strategies?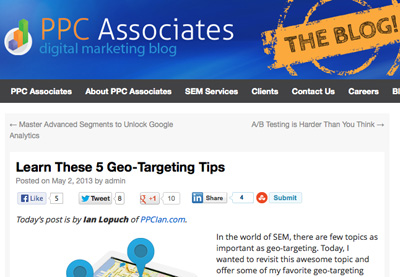 Image in this post © PPCAssociates.com
Posted in: Campaign Tips | Tags: geo-targeting, ppc associates | Comments: Be the first person to comment!