Have you heard of PPC Associates? They are one of the absolute best SEM agencies around. I'm personal friends with many employees over at PPC Associates (they are all awesome) including their CEO, David Rodnitzky. Search engine marketing is a very difficult and complex field. Its agencies like PPC Associates, those that truly "get it", that raise the bar. Today I'm thrilled to review and share with you the latest free eBook from PPC Associates, Impression Sculpting: Master GDN Advertising. This is a true must-read eBook, make sure to download it today!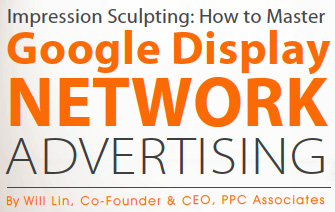 Do you advertise on the Google Display Network? When launching new GDN campaigns, most start with a keyword-driven architecture. These contextual campaigns allow you to show up within relevant articles about your product/category. If you're selling car insurance, you get to show up within articles about car insurance. However, there are only so many articles about car insurance on the Internet. What if you want to go bigger with your display advertising efforts but are out of ideas? That's the purpose of today's eBook.
Will Lin, Co-Founder of PPC Associates, introduces a new concept called "Impression Sculpting". This technique allows advertisers to go big, while still driving cost-effective conversions. It allows you to drive effective display programs, even on websites/articles that are not directly about your product/category. Impression sculpting hinges on the new Google AdWords demographic targeting launched to all accounts in July, 2012. I know I have found success with this strategy and highly recommend downloading this free eBook.
Image in this post © PPCAssociates.com