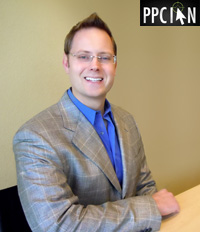 October, 2009 Update: I'm not currently entertaining consulting offers because I recently started a new full time Director of Search Marketing gig at a large publicly traded company. I'm busier (and happier) than ever and unable to entertain offers due to time limitations. However, I'm always looking to network and please don't hesitate to reach out. Moreover, I'd be happy to assist in finding the right person to help with your project, leveraging my unparalleled network of SEM professionals.
—————————————
As one of the most well respected online marketers around, I'm often approached not only with SEM job offers but also SEM consulting opportunities. I'm always interested in entertaining consulting offers and view consulting as one of the top ways to flex my knowledge and experience while continually learning. I'm typically interested in taking on consulting projects as long as my current employer agreement and schedule permits. If I'm not currently available, I have just about the most extensive network around and am happy to help you find the best person (or team) for your project. Below, I briefly highlight my core skills, qualifications, and interests in consulting projects.
Ian Lopuch's Core Skills
In better understanding the skills and experience fueling PPC Ian, I highly recommend checking out my LinkedIn profile and also my About Me page. Additionally, following is a brief summary of my core skills:
Extremely strong people manager, mentor, and coach.
Expert understanding of SEM technology.

BS in Computer Science from Stanford University.
Product manager of internal SEM applications at two leading SEM powerhouses.
Successful build versus buy decision at another company including: price negotiation, live bakeoff between competing solutions, evaluation, quantification, and seamless integration.
Deep understanding of Marin and Kenshoo.

Deep expertise in all verticals: product shopping (computers & technology, home & garden, clothing & accessories), mortgage, debt, insurance, credit cards, business to business, and people search. Very proficient in education, home services, and travel.
Expert in all online marketing channels: search engine marketing (SEM), pay per click (PPC), search engine optimization (SEO), display advertising, social media, blogging, email marketing, affiliate marketing (and affiliate management), landing page testing, and A/B testing. Experience integrating online marketing channels with offline (such as TV).
Process management, documentation, and training guru: I have written several hundred pages of documentation over the years, defining the processes by which organizations implement and manage their SEM programs.
Consistently delivering results: Standing the test of time, I have consistently delivered results regardless of industry, complexity, and pre-existing challenges. I have managed pay per click search engine marketing teams for over five years at companies spanning startup to large institution.
Ian's Search Engine Marketing Qualifications
Now that I've briefly highlighted my skills, I'd like to back them up with my qualifications. Again, I highly encourage you to read my About Me page in addition to my LinkedIn profile. These describe, at length, my personal story. Moreover, there's no better way to verify qualifications than reading recommendations. I have over 60 recommendations on LinkedIn from past reports, co-workers, and managers, thoroughly highlighting my skills and qualifications. However, to give you a brief overview of my history:
I was Valedictorian of the most prestigious high school in Los Angeles, The Buckley School.
I graduated Stanford University in June, 2004 with a BS in Computer Science and a Minor in Economics.
During my 2 years and 7 months at NexTag, I got promoted twice, received additional stock, and ended up managing the entire SEM team after being at the company only 1.5 years. Moreover, I had the opportunity to report to the Executive VP of Engineering just 1.5 years out of Stanford.
During my 2 years at QuinStreet, I spearheaded a multitude of acquisitions and received two raises with two additional stock option grants.
During my 9 months at People Search Media, I got promoted to Director of search engine marketing, only 5 years after I graduated Stanford.
I currently run online marketing at a large publicly traded company. During my 7+ year career in online marketing, I have been personally responsible for $150+ million in online marketing spend.
My Ideal SEM Consulting Project
I'm currently employed full time and manage a portfolio of SEO web properties, all while enjoying my personal life as someone who loves his wife and wants to spend as much time with her as possible! That said, my ideal consulting gigs are very high leverage time-wise. Following are a few highlights of my ideal consulting opportunities:
High leverage: As someone who has been around since the invention of pay per click and helped shape the industry from day one, I can get a lot done in a short amount of time. I really enjoy opportunities that have a low weekly time commitment (meaning 5 hours or less per week).
Focus on Training: I absolutely thrive on helping others. In fact, that's the whole reason I created this site, PPC Ian. I'm most interested in opportunities that involve training, public speaking, and coaching. These are the things that get me excited every single morning, I love helping people and businesses.
Technology: As someone with a Stanford Computer Science degree and someone who's built SEM applications at two companies while buying an SEM application at another, I have deep knowledge around the build versus buy decision. Moreover, I have deep connections and knowledge around the negotiation and pricing of third party solutions. If you're looking for guidance in your personal situation, I'm the best candidate for the job, period.
Solving Problems: I'm an absolute expert when it comes to product shopping, mortgage, debt, insurance, credit cards, business to business, and people search. I'm very proficient in education, home services, and travel. Whether you require assistance in one of these verticals or have a completely different vertical, I thoroughly enjoy solving problems and view myself as a pinch hitter. If you or your organization is facing a difficult problem (tactical, technology, team strategy), I'm looking forward to solving it with you.
Strategic Acquisitions: I've spearheaded online marketing due diligence on a plethora of successful acquisitions. Moreover, I've spearheaded the seamless integration of these acquisitions. If you your organization is involved in a complex acquisition, I bring the experience to the table that will help your acquisition conclude perfectly.
Relationships and Strategy: Your relationship with the search engines is everything. More and more over the years I have been faced with very serious problems across companies and sites. The only thing that has gotten me out of several difficult situations is solidity in my relationships with the search engines. Let me help you build strong relationships with your Google, Yahoo, and Microsoft reps.
Picture of Ian Lopuch © PPCIan.com (An IJL Productions LLC Website)