There's no denying it, celebrities carry amazing marketing power! The right celebrity endorsement can totally propel your business to the next level. Today, I want to share a few interesting ideas around leveraging celebrity endorsements in your online marketing efforts.
Celebrities Will Tweet About You On Sponsored Tweets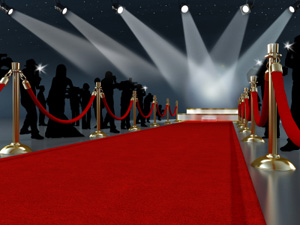 First and foremost, I recommend checking out Sponsored Tweets, by IZEA. This really cool platform allows you to pay for Tweets from celebrities with huge Twitter followings. I actually tried this out a while back and purchased a Sponsored Tweet from Jonathan Volk. The tweet cost me around $50, and the traffic ended up being very cost effective on a CPC basis. I had a great experience!
In addition to web celebrities like Jonathan, there are major entertainment industry celebrities on Sponsored Tweets as well. I'm talking about names like Kim Kardashian, Marlon Wayans, and The Fat Boys. (Side note: You may wish to check out my post about how Rap Inspires My Online Marketing, and yes I am listening to Rick Ross right now.) A big name tweeting about you will not only drive traffic, but will enhance your brand image. Moreover, you may be able to cite the tweet on your site as a recent media mention. This citation could immediately improve your site's conversion rate, especially your PPC landing pages.
Get In On Google's Celebrity Endorsement Beta
I had so much fun at Google's AT&T Park Luxury Suite. In addition to taking client relationship management to the next level, Google is launching more exciting beta tests than ever before. Recently, Search Engine Land wrote a neat post about Google Testing a Celebrity Endorsement Program. This is a great opportunity, especially if you're a larger advertiser. If you have a dedicated AdWords team, reach out to see if they can include you in the beta.
Leverage Your PR Team
As my third and final tip today, I highly recommend working closely with your PR team if you are in the corporate world of online marketing (like myself). Your PR team already holds relationships with major media channels and publications. If you're at a large company, they also likely have relationships with celebrities and public figures who can endorse your product (or have already done so).
Research the Ts and Cs of the agreements that are in place. Run your celebrity endorsement marketing ideas by your legal team. You may find out that you can leverage these PR press mentions in your online marketing materials. If you can't right off the bat, you may be able to negotiate with the publication or public figure and strike a deal. Your PR team is your best friend!
Image of red carpet © iStockPhoto – adventtr