My name is PPC Ian because I got started in pay per click search engine marketing back in 2004. If you ask me today, my favorite marketing channel is still paid search. These days, I'm leveraging paid search in the in the commercial real estate industry, at a company that develops and operates self storage and multifamily residential properties. PPC is perfect for my hyper-local marketing strategy within commercial real estate.
One of my absolute favorite partners in the real estate industry, G5, and I just co-presented a webinar offering 5 Steps To Improve Your PPC Campaigns. Those on my PPC Ian mailing list heard all about it in time for the live webinar! If you were not able to make the live webinar, however, you are still in luck. We have a recorded version of the webinar. Simply sign up to enjoy our tips, and you'll get a handy checklist too. I had the honor of co-presenting with the incomparable PPC expert Danielle Dunham, paid performance manager at G5. You will learn insights from yours truly and Danielle!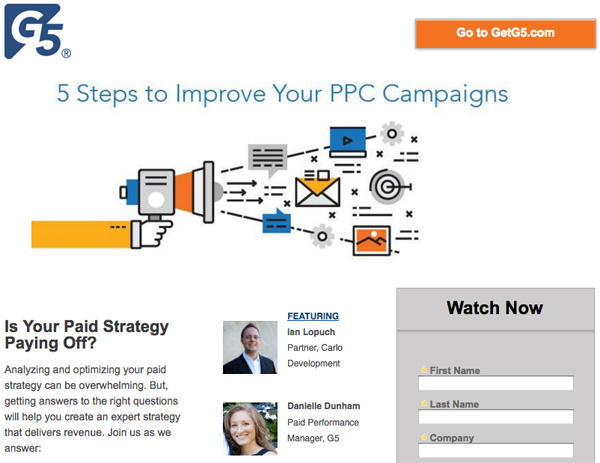 PPC is a marketing channel that truly thrives on optimization, and that's what our webinar is all about. Please sign up and watch our free webinar if you're interested in learning:
Why PPC is perfect for your business
How PPC differs from other marketing channels
How to get started in PPC
How to allocate budget towards paid search
How to successfully measure your pay per click campaign efforts
How to optimize your new PPC campaigns
How to save time and gain leverage with paid search
So much more!
(Side Note: Offering a robust and impressive suite of solutions, G5 is one of my favorite companies in technology and digital marketing. Powered by the G5 Marketing Cloud, I just launched a brand new website. I'm proud of this site, and it wouldn't have been possible without G5. I'm honored to call G5 my trusted business partner and friend. Make sure to check out our Joint Press Release commemorating this new website launch.)
I hope you enjoy the webinar, and please let Danielle and I know what you think!