Hey everyone! Just wanted to write a quick post today about my record eBay Partner Network (EPN) earnings for March. I hope this post encourages you to continue working hard towards your own affiliate marketing goals, while seriously considering eBay Partner Network as a great affiliate program. You may recall that my eBay Partner Network earnings have been volatile in 2010. After some of the volatility ended, my EPN earnings started to rock. In late 2010, I did really well as I received big bonuses from eBay due to my year over year growth (didn't blog about the bonuses). In March, 2011 (see screenshot below) I'm thrilled to announce that my EPN earnings came in at $1,861.86. That's my best non-bonused month ever!
Affiliate Marketing Works, Even If You Have a Job
I wanted to write this post for two main reasons. First and foremost, I wanted to show that someone with a full time, demanding job can still do really well in affiliate marketing. I work super hard in my full time job (and I love it!), but have also been able to build up a really sweet affiliate marketing business. I earn monthly passive income from EPN and also other affiliate programs such as Google AdSense, Commission Junction, Amazon Associates, ClickBank, and others. The skills I learned have even helped accelerate my corporate online marketing career since I have more value to add. My strategy: Build great websites with great information that offer significant value to the user. I now own 100+ active web businesses. The money did not come easily, but now I'm receiving a good deal of free SEO traffic. My EPN earnings have basically zero cost attached to them so they're pure margin. My advice: Stick with affiliate marketing. Even if you have a full time job, you can invest a few hours each week for a few years (I've been in the affiliate marketing game since 2007) and then you'll hit gold in the long run.
You Should Seriously Consider eBay Partner Network
Second, I wanted to highlight EPN as a great affiliate network. eBay Partner Network can be volatile (just look at March 31 in the graph below and you can see that my CPC tanked on the last day of the month) but my results have been super overall and I couldn't be happier. My strategy: Focus on niches you're passionate about, and review and recommend products and sellers on eBay that you're personally passionate about. Better yet, review products and sellers you've personally done business with! Once you build that bond with you users, the quality of clicks you send eBay will be tremendous and then eBay's quality click pricing will reward you. eBay will over-reward those affiliates sending the best quality clicks, clicks that convert! Looking for another great affiliate network to check out? I recommend CPA Tank, a great network operated by my friend Vito.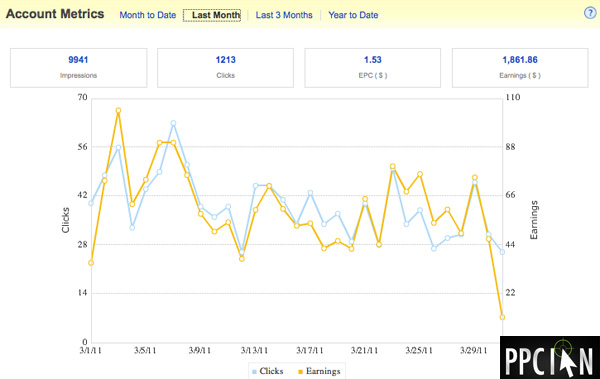 Image in this post © PPCIan.com