I'm a huge fan of creative testing. Just a few days ago, I wrote a post about A Few PPC Ad Copy Ideas. Today, I'm thrilled to share Marin Software's brand new whitepaper called The Search Marketer's Guide To Creative Testing and Optimization.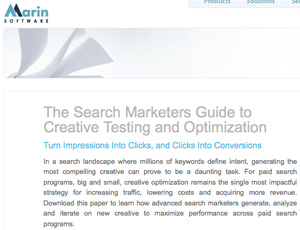 Marin offers one of the most amazing SEM Automation platforms ever, and their new 14-page whitepaper delivers some serious value. Covering topics such as maintaining keyword relevance, testing keyword tokens, prioritization of tests, implementing proper tracking, and measuring statistical significance, Marin Software's whitepaper offers value for both beginner and advanced search engine marketers.
I highly recommend downloading this free whitepaper. It's packed with valuable lessons and is a great weekend read. I went away inspired with some new ideas. I enjoyed the specific examples in the whitepaper and especially the "partner spotlight" case studies for partner, Boost CTR. Back at SMX San Jose 2012, I took a photo with the Boost CTR team. They have been taking the industry by storm and are a Marin Software partner. You'll get a bit more flavor about them and so much more in this whitepaper. Paid search is all about continuously testing. Keep testing new ads and just remember that it's all about the entire funnel (impressions to conversions). Ads with the highest CTR are only winners if your back end conversion rate also remains high.
Image in this post © Marin Software