I'm a huge believer in the diversification of traffic sources. In the world of digital marketing, there is only so much cost-effective search demand on major search engines. A winning strategy involves diversification across many search engines, ad networks, social networks, and so much more. In diversifying traffic, I recommend reaching out and testing different advertising networks. Today, I am thrilled to share one of my favorites (A PPC Ian Blog Sponsor), AdMedia. In addition to introducing this awesome ad network, I'm also thrilled to share a special promotion they are running with their Free $100 AdMedia Credit. It's easy: When you open an account and make your initial deposit, AdMedia will match your deposit up to $100!
AdMedia is the Superior Precision Marketing Platform. Their network spans 1,000s of sites across a plethora of verticals, offering a multitude of ways to increase digital advertising traffic and conversions for your business.
I'm particularly impressed with AdMedia for two reasons. First, they have a really great team. You may recall that Francesca from AdMedia wrote this guest post here on PPC Ian just a few months ago. Second, AdMedia's suite of advertising solutions is truly comprehensive. They're more than just a contextual network. AdMedia offers solutions that target prospective customers from so many angles. Some examples:
Contextual targeting based on keywords, subject matter, and the site's theme.
Advanced remarketing solutions that make it easy for customers to navigate back to your site.
Really cool image overlay ads and intextual ads, products that make the overall site experience more interesting for publishers, advertisers, and consumers. Advertise to prospective customers in new and exciting ways outside the standard search and display campaigns.
Thank you email advertising, 404 Bucks, and Ditto domains products. AdMedia offers a very clever and comprehensive suite of advertising opportunities. Chat with them today and learn new ways of advertising you may have not thought of before!
With their Free $100 AdMedia Credit (they will match your initial deposit up to $100), I highly recommend giving AdMedia a spin. It's a super way to diversify and expand your digital marketing program.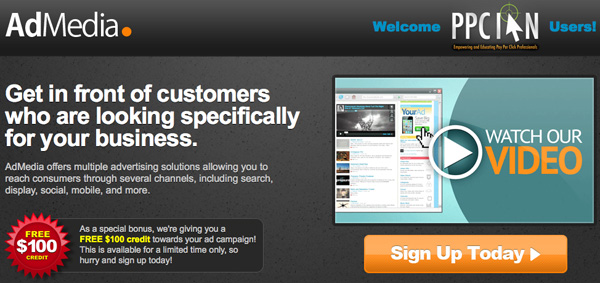 Image in this post © AdMedia