With 2015 approaching, it's the ideal time to think about your team. I'm talking about your internal team, and also your agency team. Do you manage a complex, multi-channel digital marketing program? When I first started in this field, our industry was organized in more of a channel-specific manner. These days, however, it's all about the multi-channel approach. And, this is where team comes in. To manage an effective multi-channel digital marketing program, you need to assemble a great team, the best team ever!
I'm a huge fan of agencies. One of my favorites is 3Q Digital, the authors of today's whitepaper: Should One Agency Manage Your Multi-Channel Strategy? I'm thrilled to share today's whitepaper because it presents all the right frameworks to think about your staffing approach in 2015. It's unbiased, covers all of the viewpoints, and includes 13-pages of helpful knowledge around choosing the right internal employees and/or agency(ies) for your digital strategy. Best yet, it's written by David Rodnitzky, CEO of 3Q Digital.
Some highlights from 3Q's multi-channel agency whitepaper:
How to think about the different digital channels. Which channels build brand, which drive direct response, which do both? Before selecting your team, first think about the channels that are important to your business.
How to determine if online advertising is truly core to your business. Assessing how critical digital advertising is to your business will determine if you build your team in-house, go with an agency, or do both.
Pros and cons of agencies. I really thought this was cool. Even though the whitepaper is written by a digital agency, it's truly unbiased and shares all of the pros and cons. Before adopting any approach, it's good to have honest expectations.
What are the three types of agencies and how do they differ? David covers the three types of agencies, and the pros and cons of each. Again, I truly appreciated the unbiased and honest approach.
David shares his "deep dive" approach to selecting an agency. Once you've crafted your overall team and agency strategy, you need to audition multiple agencies. David's framework provides a great way to ensure you pick the right agency for you.
I hope this whitepaper helps shape your strategy heading into 2015. Now is the time to think about your team, and build your team heading into the new year.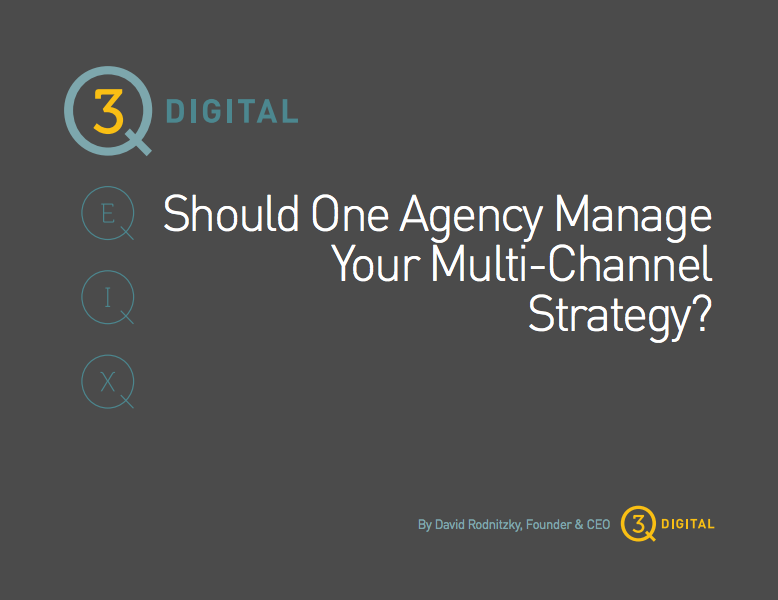 Image in this post © 3Q Digital