Hey Everyone,
I recently did two former business colleagues huge favors with absolutely no thank you at all. As a huge fan of business etiquette (being humble, grateful, and thankful got me where I am today), I'd like to share my recent experiences and make the case to think twice about the "small" stuff. Rising fast in the world of online marketing requires etiquette. If you master the numbers and the game, your online marketing career will seriously thrive.
Bad Business Etiquette: New Job, No Thank You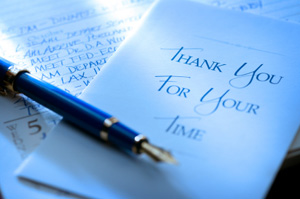 It's all about your network. I have invested substantial time over the years building my network, both in person and also on LinkedIn. Why is my network so strong? I like to do favors for other people and help them out. The more you give, the more you receive – It really is as simple as that! I truly care about others and enjoy growing careers in this great industry.
So, when I noticed that one of my bright former business colleagues was out of work, I went out of my way to leverage my network to help them out. I ended up landing them a really sweet job! Here's the problem: I got absolutely zero thank you. Can you believe it? I sure find it hard to believe! No thank you note, no dinner, no lunch, no thank you at all. My advice to you: Never take a favor like this for granted. No matter how busy you may be, take the time to really say thank you.
Bad Business Etiquette: Letter of Recommendation, No Thank You
I recently spoke about online marketing at Stanford GSB. I was thoroughly impressed with the strong caliber of students at Stanford. As a Stanford Computer Science major, I aspire to attend Stanford GSB one day. As a fan of business school and higher education in general, I always am more than happy to write strong letters of recommendation for old reports and co-workers!
This year, I have enjoyed writing several letters of recommendation. Most of the time, I will get a sincere thank you note, lunch, dinner, or at least an in-person thank you. Recently, however, I wrote a really strong letter of recommendation and got absolutely no thank you! I really can't believe it, can you?
My advice to you: Always take the time to write a heartfelt thank you note. We're in a crazy industry where time is at a premium. However, I can tell you for a fact that the leverage of focusing on etiquette is extremely high. I always place etiquette at the top of my list because it has totally fueled my career. I now have an army of friends and colleagues ready to help me out. Focus on the small stuff and your network will propel your career to the next level.
Bad Etiquette Has Negative Leverage
It's important to really focus on leverage in online marketing. Getting more done with less will exponentially impact your career. However, leverage works in both directions. Bad etiquette can really add negative leverage to your career. Just think about it: Not only will I be reluctant to help out these individuals again, I'm sure their bad etiquette has also impacted other situations with other people. People like to talk in general and this type of stuff can really start spreading! My advice: Be humble, grateful, and thankful – It will work wonders for your SEM career!
All the best,
PPC Ian (Ian Lopuch)
P.S. My blog commenting contest is almost over! However, it's definitely not too late to enter. You have a few more days and I'll announce the winners on June 30th. The comments have been amazing and I can't wait to review the winners.
Image of Thank You Note © iStockPhoto – DNY59