I'm back with another Mentorbox challenge! If you've been following PPC Ian for a while, you know that Mentorbox (a product founded by Tai Lopez and Alex Mehr) has been taking my business, entrepreneurial, and life skills to the next level. You also may know that I recently completed My Mentorbox 15-Day Challenge with great success.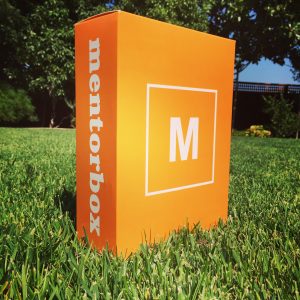 Well, this month, it happened again. I have to admit: I procrastinated and let a week slip by with no Mentorbox. It was just sitting there. I got caught up in my day-to-day work. That's not right and not aligned with my goals, so I decided it's time for another challenge. There's nothing like a good challenge to push momentum in my favor. This time, I'm going to challenge myself to complete Mentorbox in 7 days. And then, I'll have the entire rest of the month to implement lessons learned and take my new found life and business to the next level.
Just like last month, I'm going to share my personal journal and chronicle my 7-Day Mentorbox Challenge, right here for you to see. And, I'll catch you again after my journal with major conclusions and thoughts. Ultimately, the purpose of today's post is to discuss the question: Is Mentorbox worth it? Is Mentorbox worth the money? Let's follow my Mentorbox challenge and see. See you below, after my journal.
My Personal Mentorbox Journal
Day 1, Part 1 (5 minutes): It all started by watching the intro video to learn about this month's themes. Alex and Jonathon explain that this Mentor Box offers insights on how to get ready for the long-haul. Do I have a moonshot dream in my personal life or business life? I need to think into the future. What would I like to have happen? Sometimes we are so focused on "the now." We say, "I want a return right now." That being said, wouldn't it be nice if my product sold in 50 years, in 70 years? What if my product had a real lasting value? I'm really pleased with this month's themes because I regularly think about these very questions. At heart, I'm all about the long-term and love long-term goals because I believe that compound interest applies to all aspects of life (not just financial).
Day 1, Part 2 (60 minutes): Next, I transitioned into the video for A Mind for Numbers by Barbara Oakley. When I first received this month's Mentorbox, I was a bit confused by the title of this book and thought that it would help me be better at math. It turns out that this book is not about math at all! Interestingly, this video covers two of Barbara's books. It covers Mindshift too, which is not included as a physical book but covered in the video. This particular video presented so many amazing insights that I was regularly pausing to catch up on my note taking. While I experienced at least ten big takeaways, I want to highlight two of my favorites: (1) Selective ignorance. You should say "no" to most requests and a strategic "yes" to a few. I have learned this lesson in the real world, and just completed a blog post and video about The Power of Saying No. (2) If you create a habit of procrastination, it can change your life for the worse. Best way to tackle it is the Pomodoro Technique. Here's how: Turn off all distractions. Set a timer for 25-55 minutes. Go into deep work. When you're done, award yourself. I love this!
Day 2, Part 1 (30 minutes): Today, I got out my office and went out into the field. I took at working sushi lunch followed by some time at one of my favorite coffee shops. I have found that Getting Out of The Office Increases My Productivity. During my working lunch, I completed a good portion of A Mind For Numbers workbook. A few big breakthroughs that came from this exercise. (Breakthrough 1) I want my second skill to be videography. In particular, I want to become an expert on filming, acting, and producing the best YouTube videos in the financial space. I'm already making great progress, and you can read more about my Top 20 YouTube Tips in my recent blog post. That said, I have a long way to go until this is a true second skill the way that digital marketing and investing are primary skills. I will be able to evaluate my success by hitting 100,000 YouTube subscribers, a lofty goal. (Breakthrough 2) Selective ignorance: It's ok to say "no". This topic is very timely for me because I just got finished saying "no" to a particular opportunity. I have gotten a lot better at this over the years. (Breakthrough 3) I face the challenge of being distracted by my phone and social media. I will practice the Pomodoro Technique to break the cycle and become even more productive.
Day 3: Very busy day with work, unfortunately did not get to Mentorbox.
Day 4: Very busy day with work, unfortunately did not get to Mentorbox.
Day 5: Very busy day with work, unfortunately did not get to Mentorbox.
Day 6 (73 minutes): Another busy day, but had to jump back into it. At the end of the day, despite being a bit tired, I decided to finish A Mind For Numbers. I finished the video and completed the workbook during the video. Following are a few interesting thoughts and lessons from today's Mentorbox session. Never brag about not getting enough sleep. You have neurocognitive needs to solve big problems. That said, if you have the next big idea, it's ok to lose sleep from time to time. (Reminder To Self) This is something that has been a personal focus on mine. Need to stay focused on getting quality sleep. (Reminder To Self) There is no better way to learn than testing oneself. While I'm already a really great investor, I can always be better. This is one more reason that my YouTube Investing Videos are so important. They help others, while training the teacher as well! (Reminder To Self) I need to remind myself daily of how it will actually feel to achieve my goals. In addition to writing down my goals, I literally need to visualize and feel what it will be like!
Day 7 (15 minutes): Today, during some downtime at Starbucks between meetings, I jumped into Perennial Seller by Ryan Holiday. I'm really excited since I truly enjoy and identify with Ryan's work (perhaps because we both have digital marketing backgrounds). This book is all about creating work that lasts and adds value forever (a theme I really identify with). Following are some lessons from the video interview with Ryan Holiday. You should spend 80% of your time making and 20% marketing. (Cool Thought From Ryan) Your idea should be this secret plan that you are quietly working on. Don't tell anyone!
Day 8, Part 1 (40 minutes): While I'm now officially behind deadline, that's ok! I wanted to finish in 7 days, but it's now looking like 9 days. 9 days is great and still leaves me plenty of time to apply Mentorbox lessons to my real life, before the next one arrives. Today, I continued watching the Perennial Seller by Ryan Holiday. Your first attempt at a book (or project) is not good enough. You need an editor and should have four or five submissions (rounds of revisions) before you are complete. The role of the editor is huge. Take advice from people who are better than you. It's important to create an email marketing list. (Action Item) I need to spend more time building my email lists. I have lists, but have not focused enough effort on them.
Day 8, Part 2 (23 minutes): Next, I transitioned into the bonus workshop, Your Hero's Journey, based on The Hero With A Thousand Faces by Joseph Campbell. Everyone is on a hero's journey. When you are facing a big calling in life, you will be faced with doubt (all hero's face this). Then, you will be a new world and face trials (with a big trial at the end). You find a mentor. Different hero's journeys for different areas within your life. Ultimately, when you finish the journey, you become a leader and train others.
Day 9 (30 minutes): Today, I completed the Perennial Seller workbook. This one was really great. (Breakthrough) I basically formulated the blueprint for building my own YouTube channel to 100,000+ subscribers, and a huge brand within personal finance. (Reminder to Self) Refer back to this particular workbook whenever I want to craft a business plan for future businesses.
How Did I Do? This Month's Mentorbox Challenge Stats
While I was hoping to finish in 7 days, it took 9 days (2 extra days). During the middle of my Mentorbox challenge, I got sidetracked with work, and that's ok. The main purpose of this challenge is to push myself to complete Mentorbox quickly (and receive the full value of the program). In past months, in the absence of a challenge, I sometimes did not finish all of Mentorbox. So, I'm really happy that I finished. And, I'm thrilled that I did even better than last month. Let's look at the numbers:
Days from start to finish: 9 days (Last month: 14 days)
Days of actual work: 6 days (Last month: 8 days)
Total minutes invested: 276 (Last month: 215 minutes)
Total hours invested: 4.6 (Last month: 3.58 hours)
Total minutes per day over course of 30-day month (theoretical): 9.2 (Last month: 7.16)
Is Mentorbox Worth It?
This month's Mentorbox was serious, and really packed with value. Even before I discovered my new Mentorbox Challenge technique, Mentorbox was worth it to me.
Now that I am getting even more value than ever before, Mentorbox is so worth it!
It's worth the time and the money for sure. Here are some of my biggest takeways from this month's Mentorbox:
(Focus) There is power in saying "no", and I need to remember to focus.
(Productivity) I need to put the Pomodoro Technique into action. This will take my productivity to the next level.
(Second Skilling) Videography will be my second skill. I will become one of the best YouTubers in the personal finance space.
(Life) I need to focus on sleep. Loss of sleep is never worth bragging about.
(Goals) I love The Five Minute Journal, and leverage this great journal to achieve my goals. In addition to writing down my goals, I also need to visualize them and feel what it will be like to achieve my goals.
(Goals) While I'm working aggressively to scale my YouTube channel and achive my goals in the finance space, it's ok to fly under the radar and keep things quiet. In fact, that is advantageous.
(Tactical) I need to re-focus on my email lists, and start building them again. I lost sight of the value in email marketing, and am totally convinced to invest in my lists again.
(Life) I'm on a hero's journey, as is everyone else. The challenges I face are predictable and normal on my path to the next level. This is a fun way to look at things.
(Breakthrough) Thanks to the Perennial Seller workbook, I have a business plan for my YouTube channel and related businesses. This workbook is pure gold, and is perfect for developing a business plan. I'm going to refer back to this regularly.
My New Newsletter: PPC Ian's Mentorbox Tips
Putting this month's Mentorbox into action, I decided to create a new email newsletter! Do you enjoy these Mentorbox blog posts? Want to follow my Mentorbox journey? Do you want to learn my personal Mentorbox tips? Sign up for my newsletter and you'll receive periodic updates about how I'm getting the absolute most from Mentorbox. Whether you are an existing customer or a potential one, these updates are sure to provide value. I will never sell your info, and you can opt out and cancel your subscription at any time.
Want To Sign Up For Mentorbox? Consider Using My Link
I want to share with you My Personal Mentorbox Affiliate Link (affiliate link). If you sign up via my link, you will pay the same price as if you went to Mentorbox directly. And, I will also receive a commission! If you want to say "Thank You, Ian" for all of the work that I invest in these blog posts and videos, this is the greatest way you can thank me. If you choose to sign up via my affiliate link, I will be forever grateful. If you prefer to go direct, that is just fine too. At the end of the day, it makes me happy to know that I am helping out others.
Can't Get Enough? My Other Mentorbox Blog Posts
If you want to learn even more about my experience with Mentorbox, you may want to read my Mentorbox Review and My Mentorbox 15-Day Challenge. Both are great posts!
Affiliate Disclosure: I am a Mentorbox affiliate. If you find my review helpful and end up purchasing via my affiliate link, I will earn a commission and be grateful for your support.