Happy 4th of July to all my US-based readers! Happy Friday/weekend to everyone else! I wanted to take a moment here to share some fun musings, an idea originally inspired by my good friend Morgan Linton, domainer, entrepreneur, and awesome blogger who inspired me with the weekend musings idea. Let's jump into this long weekend's musings…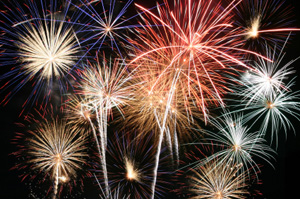 Search marketing swag is awesome! I have accumulated a ton of swag over the years, and have started a fun new experiment on Facebook and Google+ where I share my "Search Engine Swag" of the day. Make sure to follow PPC Ian on Facebook and Google+. My first Search Engine Swag is my cool Yahoo! basketball. Honestly, Yahoo! has some of the best account management in existence and our AM team always thinks of us. When I'm pondering big new ideas, you can often find me bouncing my Yahoo! basketball. I'm not going to add new swag every single day but you'll find me posting cool new items every few days. Do you have a favorite piece of Search Engine Swag?
I'm so excited for the long weekend. I have a long four-day weekend here and I'm totally thrilled. I'm taking time to really enjoy the weekend with my amazing wife, Nicole. We both work super hard and are thrilled for some time off. I know the folks on my team and pretty much everyone I know in the digital marketing industry works incredibly hard (that's you). Make sure to take it easy this long weekend! And, make sure to say thanks to everyone who has made our country so special, we are truly fortunate.
Make sure to thank great people in the digital marketing industry. Do you have a partner or vendor who treats you well? Take a few minutes to write thank you emails. Maybe call them out on Twitter. Make sure the thank you emails and words of praise go to your day-to-day rep and also the senior leaders. Call out success and make others look good. If you pause and take time to celebrate the success of others, you will make someone's day each and every day. What's better than that?
I've been in the digital marketing game since 2004, loving every step of the way. I was discussing with a co-worker on Friday that I've now been doing digital marketing for longer than I was in college and high school combined. That's almost unbelievable, it's gone by so fast. Digital marketing is intense, never forget that this is your life. Take it all seriously, but never forget to have fun each and every day. Never forget to force everyone on your team to have fun each and every day. As a leader at your organization, you have the opportunity to add great value and impact not only to careers but lives as well.
Treat your team at work like family. You are there to empower and uplift others. Likewise, look to your team for strength and motivation. The power of a team is so much greater than the sum of the parts. Find ways to build an incredible presence of strength, confidence, and results as a team. Digital marketing, at an enterprise level, is definitely not a solo sport.
That's all for today everyone. Wishing you a fun, happy, and safe 4th of July. I truly appreciate your support!
Image of 4th of July Fireworks © iStockPhoto – triggermouse