2015 is almost here! Now is the time to start planning your digital marketing strategy for the next year. Is big data part of your strategy? It certainly should be. Big data can be confusing. Is it just a buzz word, or does it have real implications in your marketing strategy? I'm thrilled to share Kenshoo's Guide To Big Data where you will find the answers to all of your Big Data questions.
Kenshoo, one of the premier digital marketing technology platforms, is a true leader in Big Data. If you've been reading PPC Ian for a while, you may remember that I shared an amazing whitepaper about Kenshoo's SmartPath Technology. SmartPath is perhaps one of the coolest applications of Big Data in the field of digital marketing.
Kenshoo's whitepaper on Big Data is really big, it's 20-pages long! Some of my favorite highlights:
Is Big Data just a buzzword or a real trend? Kenshoo tells you the truth about Big Data!
Kenshoo highlights the most relevant applications of Big Data in the field of online marketing.
Kenshoo calls out the "8 Laws of Big Data", perhaps my favorite section of the entire eBook. The 8 Laws section ensures you keep the right focus and perspective when applying Big Data to online marketing.
Daniel Morgan, Head of Search Engine Marketing at Accor, gives his perspective on Big Data. I really enjoyed this section since I heard the Accor team speak at Adobe Summit EMEA.
Amit Golan, Senior Director of Product Strategy at Kenshoo, shares some really cool perspectives and stats on Big Data. Did you know, Kenshoo processes 85 million tracking events every day. They manage over $100 million in spend every week. They deliver 1 billion clicks per month. And, 1 trillion ads per year. Simply amazing! In my opinion, Kenshoo is Big Data!
Each weekend, I really enjoy reading these eBooks and whitepapers. They always provide great value heading into the workweek!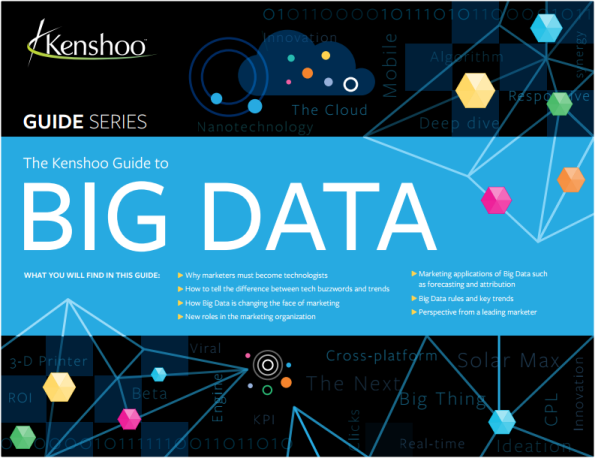 Image in this post © Kenshoo