Hey everyone! It's been a while since I've posted here on PPC Ian. The last several weeks have been incredibly busy (in a good way). I'm now back into the swing of things and wanted my first new post to highlight a truly remarkable whitepaper: The Conversion Attribution Revolution by Kenshoo. If you are a serious online marketer, you absolutely must stop everything and read this whitepaper right now, or at least sometime this weekend/early next week. It's 18 pages of pure education on the topic of conversion attribution. Most importantly, it will change the way you look at conversion attribution and unlock opportunity for you and your company.
Conversion attribution is a hot topic in our industry and a very important lever. At the end of the day, accurate data drives great results. Accurate data powers everything we do! At its core, Kenshoo's whitepaper introduces their SmartPath technology, a machine learning algorithm that dynamically applies appropriate conversion credit to media sources in the conversion funnel. No longer do you have to apply the same conversion attribution model across the board. SmartPath takes things to a whole new level and dynamically applies appropriate credit based on the particular customer flow in question. Kenshoo rounds up their whitepaper with two practical case studies (complete with real numbers) that drive home the power of SmartPath.
I'm not going to do this whitepaper justice by writing too much more here, so I urge you to head on over to Kenshoo and download the whitepaper for free. Also, I recommend contacting Kenshoo to see how they can help your company. Kenshoo has been a true leader in conversion attribution for years and I'm incredibly impressed with their latest invention, SmartPath.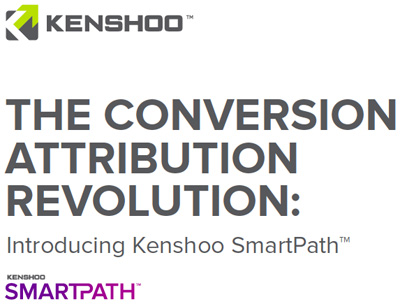 Images in this post © Kenshoo