I'm truly honored and proud to be a disciple of my Lord and Savior, Jesus Christ. Today's post is about my experience as a Christian Businessman and my experience praying while running. I hope this post encourages you to embrace your own spirituality, as I know this is the key to solving many of our world's challenges.
I'm a Busy Person: Running Is The Perfect Time To Pray
I'm a busy guy. I love what I do and often take on way too much. It's all good and I'm blessed to have these opportunities in life.
Many Christians like to start their day with prayer. This is something I may try in the future, but I often find that the mornings are my busy time. I could probably find a few minutes to pray, but it would feel rushed.
If you've been reading PPC Ian for a long time, you probably also know that I love running. Since becoming a Christian, I have started getting into really deep thought during my long runs. I have really taken advantage of my time running (typically I go running for 45 minutes to 1 hour at a time), to connect with Jesus via prayer.
If you're a busy person and feel like prayer is not making it into your routine, I encourage you to give this a try.
Today's Prayer: I'm Thankful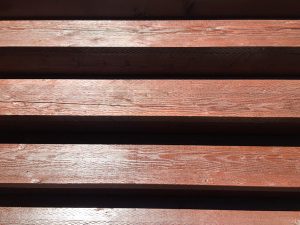 So, what did I pray for during today's run? First and foremost, I started with gratitude for everything I have. Today, I am especially thankful that I was able to run at all, especially for such a long distance (about 7 miles) in such heat (hot summer heat) on such tough terrain (entire run was up a slope, and then down the same slope).
Recently, I stepped on a piece of glass that really caused some damage to my foot. I thank Jesus that my foot has healed and I was able to run. Also recently, I pushed myself too hard running and had to go to the ER due to dehydration. I'm thankful that I'm more conscious of my limits and decided to walk part of the run today. I am smarter and wiser due to these challenges.
Of course, I also took some time to reflect on my incredible family and life. I'm very lucky and grateful.
Today's Prayer: My Wishes
The great thing about praying while running, especially if you go on long runs like myself, is you have a ton of time to truly pray. With so much going on in our world right now, I had a multitude of prayers:
I prayed for the African American community. Black lives truly do matter and I prayed that African Americans enjoy peace and true prosperity. An interesting side note… I grew up listening to rap music. Rap music very much shaped who I am. Rap is my encouragement, my fuel, my hope. Rap music always puts me in a great mood. I'm a fan of jazz too. If it were not for the African American community, I would not be where I am today since this amazing music is so much a part of who I am.
I prayed for the amazing police officers out there. Over the last decade, I've had the privilege to get to know some local police officers here in the Bay Area. I have so much respect for the men and women who enforce our laws and put their lives on the line for our personal safety. I pray for peace and prosperity for the police force.
Just like everybody else out there, I'm often facing a big question or dilemma where I just don't have the answers. I know that Jesus has a plan and has those answers for me so I prayed today for those answers.
I haven't had the opportunity to support our Church to the extent I would like in recent months. Today, I prayed that I'm able to contribute, especially via my tithe and offering and also by executing upon my finance seminar.
Last, I truly have a heart for those in the local community who are facing challenges. I prayed for those in the greater San Mateo County who are in need of help. I prayed for prosperity in our community.
Some Closing Thoughts
I respect all religions that promote peace, respect, and love. Whether your spirituality is Christianity or another religion, I encourage you to really embrace your spiritual side. I truly believe that spirituality is the key to many of the challenges our society faces. We are flawed and we don't have the answers. A much higher power does, however, as long as we ask for help and are open to feedback.
I also came up with some fun ideas on today's run. I find that these runs while praying offer me great insight and peace. Two of the fun ideas today were creating my personal bucket list and also sending some gifts to star employees who have gone above and beyond.
In closing, I encourage you to go running and embrace your spirituality.
Image of wood stairs ©PPCIan.com