Check out the screenshot below of the Google search results for the ever competitive query, "auto insurance". At the top of the right rail, you'll see a map. If you click the title of the map ("Map for auto insurance"), you get taken to a local results page that includes local brokers. If you're a local broker, this could be a great way to get more business. However, if you're a paid search advertiser and show up on the right rail, this means lower CTRs.
The map pushes all ads on the right rail down. At the end of the day, this means it's more important than ever to show up in the top yellow bar. Otherwise, your ad will get a significantly lower CTRs. Google is supposed to normalize CTRs for position for purposes of quality score, but I wonder if they are factoring in this new map feature. The lower CTRs of right rail advertisers could be a vicious cycle if Google is not taking this new map feature into account.
My advice: Work on your CTRs, landing pages, and overall account structure/efficiency to make sure you show up in that top yellow bar! It's becoming more important than ever to avoid the right rail, if possible, and show up in the yellow bar.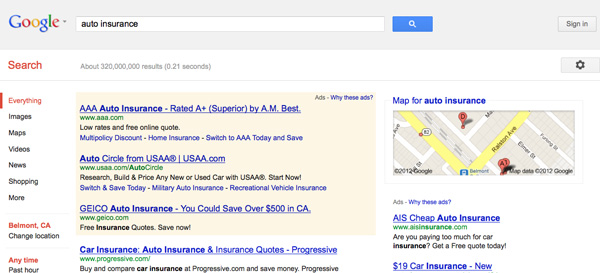 Screenshot of Google search results © Google