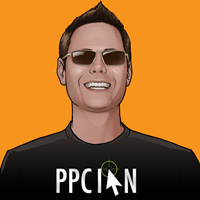 Dear PPC Ian Visitor,
Thank you so much for signing up for my free newsletter all about pay per click, both career tips and strategies in addition to tactical campaign tricks. I'm very pleased to share my eBook with you, PPC Ian's Top 5 Career Tips. Within the next few minutes, you will receive my free eBook directly in your email inbox. Until now, I have kept these PPC career tips extremely close and guarded. Now that I've reached my long standing goal of becoming Director of SEM at a large company, I'm ready to give back and share my strategies. I hope these strategies help you out and thanks so much for visiting my site!
Sincerely,
PPC Ian (Ian Lopuch)
PS – You will also receive a link to download my recent two hour long PowerPoint presentation to Stanford's Graduate School of Business. I cover actionable tips to grow your PPC and SEO campaigns, I hope you find it helpful!
PPS – I also recommend subscribing to my new SEM Whitepaper Series. My first Whitepaper: PPC Ian's SEM Automation Buyer's Guide.
(Adobe Acrobat Reader is required to read my eBook.)