If you're a marketing professional, you should be incredibly aligned with your customer service organization. Great customer care is often the foundation of a great brand. Moreover, you can learn so much from your customers. Partner with your customer service team and you will learn new and exciting insights about your customers which will help your overall marketing strategy.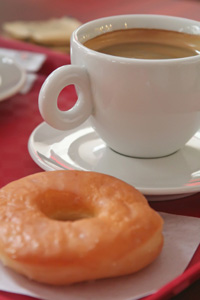 The moral of today's post: Always strive for excellence in customer service. In my opinion, customer service is just as much about the little things, as the big things. The smallest of changes/optimizations in your customer service program can truly delight and dazzle customers.
One simple observation: I enjoy dropping by Krispy Kreme on the way home from work once in a while. I'll treat myself to an original glazed donut, one of my favorite deserts around. I've noticed something really amazing about the Krispy Kreme Silicon Valley drive-thru. No matter who is handling my order, they always give me the donut(s) before taking payment. Even if I have payment in hand an I'm passing it through my car window to the employee, they still hand my order to me before receiving the payment! This is such a small nuance/change compared to the typical fast food model of taking payment and then giving you the food, but it makes a huge impact! It makes me feel, as a customer, like the brand has so much more trust in me and values me as a customer. I believe this may be part of Krispy Kreme's customer service protocol – give the food before taking payment. What an incredibly smart and clever, yet simple, move.
Building one's brand is not only about great marketing. It's also about great product and great customer service. Partner with your own customer service team to see how you can collaborate! Take your customer service to the next level and that brand equity will truly come thru in your customer acquisition efforts, making the job of the customer service marketer easier. And, remember, it's often the little things that set your brand apart from others!
Image of Donut and Coffee © iStockPhoto – kgtoh