I'm a huge fan of Acquisio. Not only do they offer one of the best Online Marketing Platforms around, but they are also a really great group of professionals. I always have fun running into Marc Poirier and his team at the search engine marketing conferences.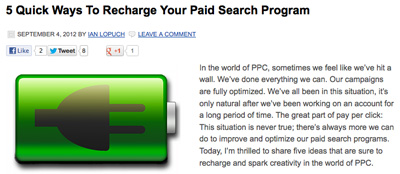 Over the years, I have gotten to know the Acquisio team really well and have nothing but good things to say about them. Back in December (I can't believe it was that long ago), I had the honor of writing my first guest post on Acquisio's blog. I shared tips on getting the most out of your new online advertising platform. I write a lot about SEM automation here and Acquisio is one of the best in that industry so I thought the topic would be perfect.
Recently, Acquisio invited me to do another guest post and it went live today! Today's guest post features 5 Quick Ways To Recharge Your Paid Search Program. Many of the campaign managers leveraging tools such as Acquisio are in charge of huge online marketing programs. It's always great to add some fuel to your program from time to time, so I wanted to offer some tips to challenge the status quo and charge forward. I hope you enjoy the post and recommend heading on over to Acquisio's blog to read it. After you're done, make sure to audition Acquisio, an amazing way to charge up your paid search program. Thanks Acquisio for the opportunity to guest post!
Image in this post © Acquisio