Today is the day you all have been waiting for: I'm about to announce the winners of PPC Ian's first ever blog commenting contest! The contest was a huge success with the top three commentors generating 83 insightful comments. That's quite amazing considering my blog has a grand total of 351 comments since its launch in October, 2009 (including my own comments as well)! In just two short weeks, I was able to leverage a simple contest to rapidly accelerate my comments and take my user engagement to the next level. The takeaway: A blog commenting contest is a great way to drive your blog to the next level.
The Purpose of My Blog Commenting Contest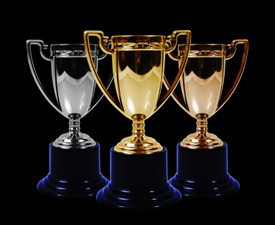 Why did I run this contest? It's simple: Comments are the most interesting part of blog posts (at least in my opinion). Posts without comments simply aren't as interesting. Moreover, comments tell both humans and search engines that your blog is good and worthy of traffic. If it weren't interesting, there wouldn't be any exciting comments. In short, I ran the content to increase user engagement while drawing in new PPC Ian readers. It definitely worked!
You may recall that I linked to 10 posts in the contest that previously had 0 comments. I'm now pleased to announce that all of these posts have comments. Excitingly, my post about leverage and my post about eBay's quality click pricing each have 10 comments now!
Contest Winners: Profit Addiction, Dino Vedo, and My 4 Hour Workweek
Without further ado Here are the winners:
Jeremy from Profit Addiction – 48 comments
Dino Vedo from Dino Vedo – 26 comments
Eric from My 4 Hour Workweek – 9 comments
Jeremy, Dino, and Eric, I sincerely thank you for your comments! I learned a huge amount from your insightful comments and questions. It's really quite funny: Jeremy from Profit Addiction originally inspired my blog commenting strategy. This strategy received a ton of interest, became one of the most popular posts on my blog, and even got featured on Jonathan Volk's Week In Review. My blog commenting strategy in turn inspired my blog commenting contest. Coming full circle, it's absolutely no surprise at all that Jeremy won the competition, he inspired my original strategy after all.
As promised, I will be reviewing the blogs of the three distinguished winners (Profit Addiction, Dino Vedo, and My 4 Hour Workweek) in my next post. One thing is for sure: All three of the winners are expert commentors and have incredible blogs. I have been frequenting all three and can't wait to review them! Stay tuned…
Image of Thank You Note © iStockPhoto – Graffizone