When you're in corporate online marketing, you have to work from home on the weekend from time to time. The projects line up and you just have to work form home to meet deadlines. (Side note: Always meet your deadlines, no matter what you need to do to get there.) It just so happens that I had an important deadline for my job. So, I worked from home all weekend this weekend. I'm really excited that I finished my project and feel quite energized for the upcoming week. If you're in corporate online marketing, I'm certain you face this same situation from time to time! Following are a few of my favorite tips when it comes to working weekends.
Tip 1: Take It A Little Easier The Next Week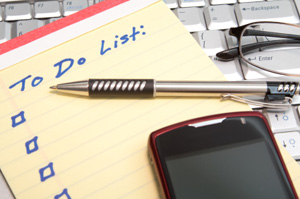 First and foremost, we must recognize that the weekend exists for a reason. No matter how much you love online marketing (believe me, I can't get enough of this stuff), you need to remember that balance is everything. It's not about how many hours you put in, but how much you accomplish. After working the weekend, you need to take it a little easier the next week. I'm talking about getting to the office on time (versus early). I'm talking about leaving at the end of the day (as opposed to getting wrapped up in a project and staying late). It's important to force the balance because career longevity is everything in online marketing.
Tip 2: Make Sure To Exercise
I tend to exercise quite a bit on weekends. When I work at home on weekends, I never compromise my workouts. It's the balance of exercising and working that keeps my head clear. If you're in a high power career like online marketing, I always recommend exercising. When the work piles up, always keep up the workouts. It's amazing how they will help you generate new ideas and excel even more at work.
Tip 3: Don't Work Every Weekend
I'm the number one proponent of corporate online marketing. When I'm not doing online marketing for my job, I'm blogging about it. It's an addictive field. That said, it's all about balance and longevity. Make sure to take time off to spend with your significant other and family. It will keep you balanced and in the game for the long term. While I worked all weekend this weekend, I'm going to strive to take the entire next one off.
Tip 4: Make Your Hard Work Known
In most high powered corporate careers, it's expected that you work from home (nights and weekends) from time to time. Everyone does it. However, let's say you go above and beyond. You're putting in some serious hours on weekends and driving amazing numbers as a result. Let your manager know. You don't want to go overboard, but subtly make your hard work known. This is something that will likely help you in your next performance review. Want to learn more SEM career tips? I recommend downloading my free eBook highlighting my Top 5 Online Marketing Career Tips.
Image of To Do List © iStockPhoto – CT757fan