Hey Everyone,
Today is an exciting day! I'm officially launching PPC Ian's Whitepaper Series. Today, you'll have the opportunity to download my FREE 12 page whitepaper all about buying SEM automation software. I'm launching my SEM Automation Buyer's Guide, the culmination of years of very hard work in the SEM technology arena. Want to download my free whitepaper? Read on! Instructions follow at the end of this post, it's easy…
SEM Automation Software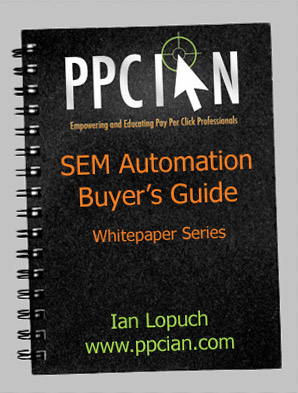 There's no doubt about it! I'm the biggest fan of SEM automation software. Over the years, I've had the huge pleasure of building several in-house automation tools. I functioned in a product management role to build scalable campaign management technologies. The benefit in all of this: I learned exactly what it takes to succeed in the world of search marketing software!
Later in my career, I quickly noticed that the solutions available on the market evolved tremendously. Today, they're far more cost effective, practical, and advanced compared to the in-house route. These day's I'm a big proponent of buying instead of building, and was directly responsible for buying a major SEM platform at one of my recent companies. (You may wish to check out my recent video on the build vs. buy decision). The crazy part of all of this: I'm not the only one who has arrived at this conclusion! This year alone, I've coached at least 10 different corporate SEM teams in their SEM software audit. It seems like everyone is in the process of evaluating SEM software right now!
My Whitepaper Will Help You Buy The Right Search Marketing Software
So this all brings me to the topic of my whitepaper. When it comes to SEM software, I've really seen it all and done it all! I have added huge value to numerous SEM teams this year, coaching them through their buy decision. However, I'd like to scale even more and help even more search marketing teams. As such, I created an incredibly comprehensive resource for those of you evaluating SEM automation software. In 12 pages, I share my proprietary framework for completing an unbiased audit of the major SEM applications out there, arriving at the perfect decision for you and your company. Regardless of your current situation, I highly encourage you to download and read my FREE whitepaper. It will save hours of work while taking your career to the next level. If you really want to stand out as a leader in your organization and make the right software decision, my whitepaper is definitely worth your time!
PPC Ian Whitepaper Series – Sign Up Now!
The really exciting part of this all? My SEM Automation Buyer's Guide is the first whitepaper of many. My eBook highlighting my Top 5 SEM Career Tips has been a huge success. It even landed one PPC Ian reader several job offers. As a result, I decided to launch my whitepaper series. Download my first whitepaper and you'll automatically receive all future whitepapers directly to your email inbox. Moreover, you'll periodically receive PPC Ian updates. It's easy! Simply enter your first name and email and you'll receive my whitepaper in just a few minutes. Already on my email newsletter list? My whitepaper list is actually new so you'll want to sign up again!
Thanks so much for your support! I can't wait to hear what you think about my new whitepaper!
Sincerely,
PPC Ian (Ian Lopuch)