About a month ago, I announced my Twitter Advertising Challenge. What was my challenge all about? In a nutshell, I decided to follow no more than 200 people, redesign my Twitter background, and start advertising. About a month ago, I was following 16,826 people, with 17,060 following me. I'm now following only 68 people, with 14,417 following me. The strategy worked! I did lose some followers, but that's ok. I lost fewer than the 5,000 I projected and now it's so much more fun to use Twitter.
I also got a really cool new background. Head on over to My Twitter and see for yourself! I'm super happy with how it turned out. It's really consistent with my blog! I have not started advertising on Twitter yet, but that's still in the pipeline.
I was so thrilled with how my Twitter challenge worked out, that I also did a mini-Facebook challenge. Basically, I went out and got a new Facebook banner and also landing page. The landing page is interactive. If you like me, you get to download my eBook for free. Head on over to the PPC Ian Facebook Fan Page and check it out. (I also have a screenshot of my new landing page below.)
Big thanks to Collabo for reaching out to me and inspiring today's blog post. I'm more excited about social media than ever before and am glad my challenges helped me take my social profiles to the next level. I hope you challenge yourself to make your social media campaigns amazing!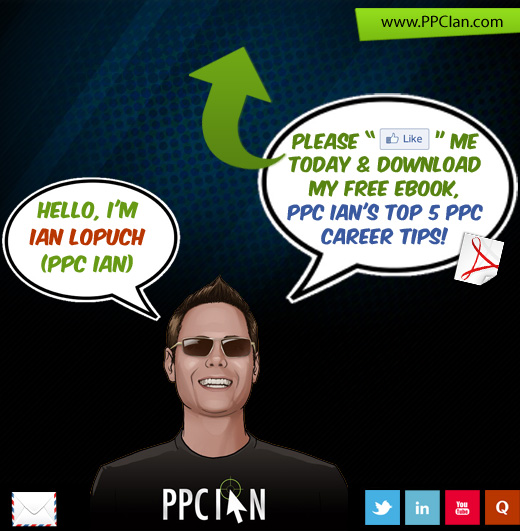 Images in this post © PPCIan.com