Jimboy's Tacos, man is that place delicious. I was in the Sacramento area the other day and just had to stop by! (If you are ever in the Sacramento area, I highly recommend trying them out, they have many locations and are so amazing.)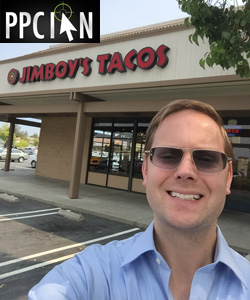 I would have never known about Jimboy's Tacos if it wasn't for my amazing friend Suki (most amazing Executive Admin in existence), and that would have been really sad since Jimboy's is so incredibly delicious. Suki scheduled regular team outings to restaurants like Jimboy's. Suki has a passion for food. More importantly, however, Suki has a passion for her team, her people. She knew that something little, a single lunch, could literally transform someone's day. It could get the creative juices flowing, it could become the genesis of the next big idea, it could create a lasting bond between teammates. Suki's lunches became legendary and made our workplace enjoyable.
I'm here to submit a business leadership strategy for those who care about building amazing, long-lasting teams. I'm here to submit a business strategy for those who care about their people: Focus on the little things, especially the little things not directly tied to the work at hand. It's the little things that make all the difference. It's the little things that motivate, empower, and grow careers. It's the little things that make life fun. As an employer, manager, teammate, or friend, you are responsible for others. Take that responsibility with great seriousness! Strive each and every day to make business amazing for everyone.
Perhaps lunch is not your thing. That's ok, you have to find your unique way of creating culture. Some ideas I'd like the share (mix several of them and the little things will add up into tremendous culture):
Remember birthdays and do something special and unique for each of them. Include everyone from the team, make it a true celebration.
Take each team member to Starbucks once a week, on you. Spend your time together talking about the big picture, brainstorming big ideas.
Schedule a team lunch and movie day after each big milestone.
Don't be cheap! Invest in your team and send them to the conferences that count. Even during a period of cost cutting, never save money at the expense of your team learning.
Have someone on your team that is working especially hard? Give then a half day off (or even a full day off). Tell them they don't need to use PTO, and can save that for another day.
Don't forget happy hour! Don't want drinks at the workplace? My favorite happy hour had nothing to do with the drinks, and everything to do with the fresh Samosas each Friday.
Work in an environment with none of these fun, little things? You may have a boring culture, one that is prone to losing top talent. Take a step back from the work and invest time in your people. Find little ways to reward and empower. What you create may become legendary!
Suki, thanks for crafting all those special team lunches. Those are my highlights from our time working together, cherished memories I will not soon forget. Taco Thursday is now part of my schedule forever!
Image of PPC Ian at Jimboy's Tacos © PPCIan.com
Jimboy's sign and restaurant © Jimboy's Tacos