Do you Kenshoo? Kenshoo is an amazing digital marketing platform for the true digital marketing professional. You may recall, just a few weeks ago, I blogged about Kenshoo's new eBook, Facebook Advertising Boosts Paid Search Performance. I truly enjoyed reading that study, and highly recommend it to any digital marketer considering budget allocation decisions by channel. Well, Kenshoo has done it again! Today, I'm absolutely thrilled to share Kenshoo's latest free guide: The Kenshoo Guide to Google Product Listing Ads.
As the title suggests, this guide is all about Product Listing Ads, also known as PLA Ads. It's a free 17-page guide, packed full of actionable tips. Many years back, at the beginning of my digital marketing career, I was in the Product Shopping space and had great exposure to PLAs, feeds, and shopping comparison sites/ads. However, for most of my career, I have been in the Financial Services vertical. Those of us in Finance don't spend quite as much focus on PLAs (we have our own Finance-specific ad extensions and advertising vehicles). This particular fact piqued my interest incredibly in Kenshoo's new guide…
I'm a huge proponent of leveraging technologies from Product in Finance and vice versa. You can learn so much by investigating verticals other than your own, and leveraging ideas across categories. I picked up some solid tips and advice.
In Kenshoo's guide, you'll learn all about PLAs, Google Merchant Center, data feeds, product targets, important rules, and so much more. My absolute favorite parts of Kenshoo's guide are the 8 best practices and common PLA mistakes. These sections truly provide some golden nuggets of info.
Kenshoo is one of the best digital marketing platforms around. They originally got started in the Product vertical so they know this stuff incredibly well. I highly suggest downloading Kenshoo's free guide today to perfect your Product Listing Ad skills. Even if you aren't in the Product category (like me), you will learn form this guide. As digital marketers, it's all about generating new ideas. The best ideas often come from applying insights from one category to another, challenging the status quo. Elevate your PLA skills today!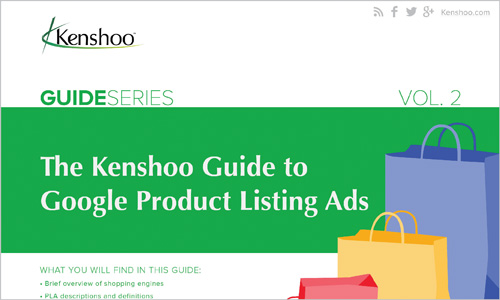 Image of Kenshoo PLA Guide © Kenshoo