I'm a huge fan of whitepapers! In fact, I just wrote a FREE 12 page whitepaper all about buying SEM software. It actually took me nearly an entire day to write, edit, and publish that whitepaper so I have a ton of respect for anyone writing great PPC whitepapers. Today, I'm excited to share with you a great new FREE whitepaper I just discovered, Marin Software's Optimization Beyond Bidding.
What Is Marin Software?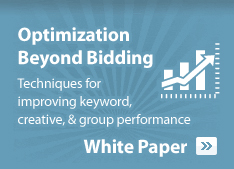 Before I discuss this great whitepaper, I wanted to first take the opportunity to introduce Marin Software. Marin software is the leading pay per click search engine marketing software solution. It's the package of choice for corporate search engine marketing organizations. Recently, Marin Software announced that over one billion dollars worth of annual spend is managed by their system. That's simply amazing.
Want to learn even more about Marin Software? I highly recommend reading my exclusive interview with Matt Lawson, VP of Marketing at Marin. Want to learn more about Marin and other amazing SEM tools? Check out my recent article about my favorite four SEM software solutions.
My Key Takeaways From Marin's Whitepaper
Optimization Beyond Bidding is absolutely packed with great information, 16 pages of great information. My favorite part of the whitepaper: It's the perfect mix of strategic and tactical. This is very important in the corporate world. It's not enough to simply execute and grow the numbers. You also have to explain the strategy behind it all! Some of my favorite highlights:
The whitepaper defines the exact mathematical equation behind your CPC (as a function of quality score and also bid of your competitors). I'm always getting questions about this at work, it's an equation you definitely want to have handy.
It offers several tactical workflows for optimizing your quality score and ROI. My tip: Print these out and post them on your cube. These are workflows you want to live by!
Optimization Beyond Bidding identifies the reasons you should focus on exact match as opposed to broad and phrase. This methodology has been core to my personal paid search philosophy for many years and is extremely powerful.
Offering real world case studies, Marin's whitepaper ties its tactical tips to your personal business situation.
The whitepaper is sprinkled throughout with handy statistics that will help you in communicating strategy with your executive team.
So, what are you waiting for? Go download your FREE copy of Marin's Optimization Beyond Bidding whitepaper. I'm looking forward to hearing your thoughts!