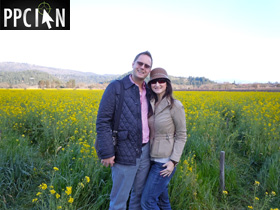 The corporate PPC lifestyle is like trading on Wall Street, although the market never closes. I can't get enough of online marketing and my career has truly been great to me. That said, when you work as hard as my amazing wife, Nicole, and I do, it's imperative to take time off and travel. We love traveling to Hawaii and also Las Vegas. Due to the long 3-day weekend (President's Day), we took a trip to Napa this time around. The 3-day weekend offered the perfect opportunity to take a breather from the computer and relax, wine country style.
We decided to stay at the Avia in downtown Napa. We booked a corner suite and were quite pleased with the hotel and the room. As people who like to be in the middle of it all, the Avia provided the perfect location with close proximity to restaurants and shops. The hotel itself was not too big nor too small and was well appointed. The room was quite luxurious with panoramic windows offering views of the city. Next time we go to Napa, we would be delighted to return to this hotel.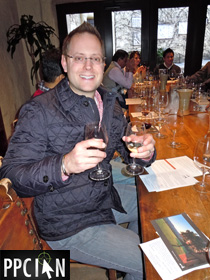 On day one of our trip, Saturday, we drove from the San Francisco Peninsula where we live to Napa. The drive went by fast, but we were quite tired when we arrived. As such, we grabbed an early dinner at UVA. After dinner, we went back to the hotel and crashed. I think this is the first time I slept 12 hours in a single night in the last year or so. We were truly thankful to get a good night's sleep.
Day two of our trip was the best. After getting re-energized, we took a short road trip to Robert Mondavi winery. At Robert Mondavi, we took a 90 minute tour and enjoyed wine tasting. The grounds at Robert Mondavi were truly beautiful and we had an amazing time. As someone who's been on a few wine tours, I would recommend this one the most.
After Robert Mondavi, we drove around the area (Napa, Yountville, Oakwood, and surrounding areas) to take in the scenery. You can see a cool picture at the beginning of this post of Nicole and I in the middle of a vineyard with mustard flowers. This was taken just north of Robert Mondavi winery.
After the long day, we drove back to our hotel and then enjoyed dinner at Ristorante Allegria. I had the filet Mignon, and it was honestly the best I have had in the last year. It's rare that you have such a delicious meal and I'd highly recommend this restaurant in the heart of downtown Napa.
After another great night of sleep, we enjoyed lunch today in downtown and then drove back to the SF Peninsula. While our vacation went by quickly, we now feel rested. Time to start planning our next vacation, we can't wait!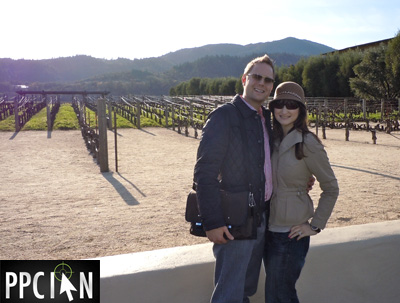 All images in this post © PPCIan.com